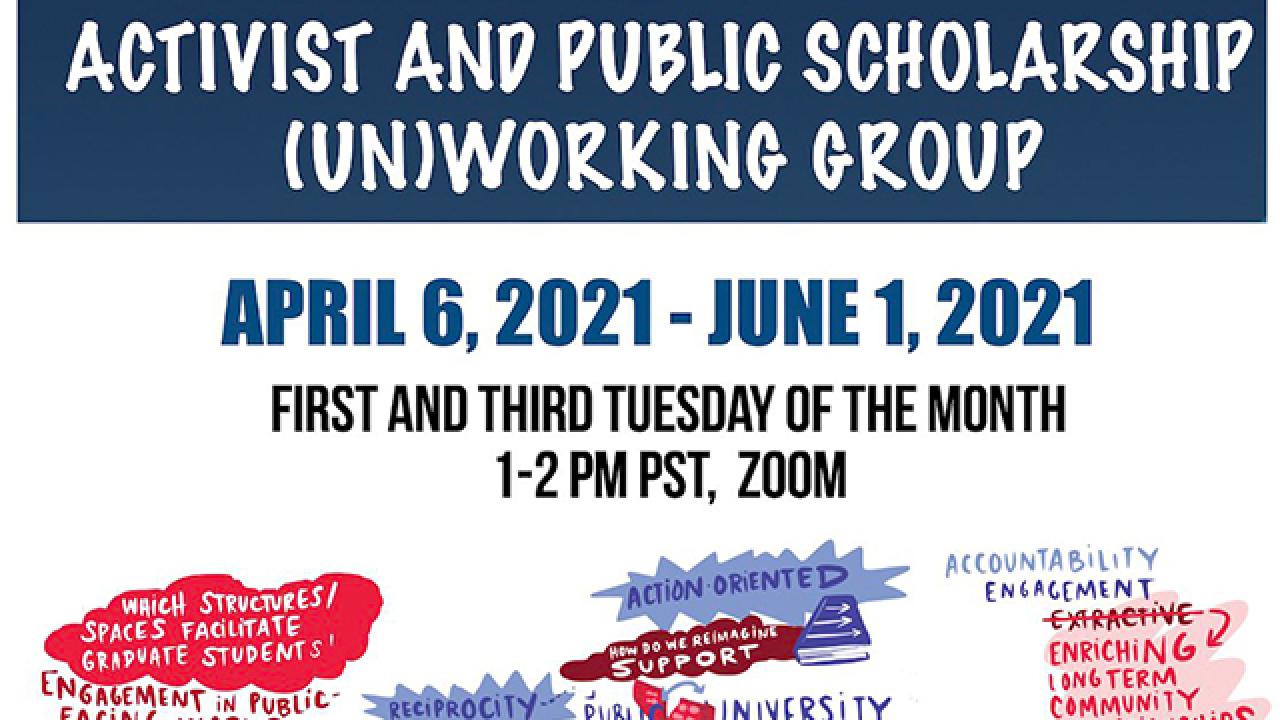 The Activist and Public Scholarship (Un)Working Group is a collaborative online series that seeks to provide a space for scholars to gather and exchange ideas about activist and public scholarship. 
This online series is co-sponsored by Imagining America's Leading and Learning (LLI), a three year action research and field-building project funded by the Andrew W. Mellon Foundation, and Public Scholarship and Engagement (PSE). These series is organized by Lizbeth De La Cruz Santana (Spanish and Portuguese) and Alana Haynes Stein (Sociology), UC Davis graduate student who were Mellon Public Scholars on Imagining America's LLI in 2020. This series aims to connect and convene UC David graduate student scholars who are committee to activist and public scholarship, and to build a collective, multi-faceted voice towards advocacy and action. We hope this group will connect, collect and redistribute resources that scholars can use to advocate for change towards greater support of activist and public scholarship.
The series is open to UC Davis graduate students and recent UC Davis graduate student alumni who do activist work and public/engaged scholarship in the arts, design, humanities and humanistic social sciences. 
This series will meet from 1 - 2 p.m. on the first and third Tuesday of the month between April and June: 
April 6 | 1 - 2 p.m.
April 20 | 1 - 2 p.m.
May 4 | 1 - 2 p.m.
May 18 | 1 - 2 p.m.
June 1 | 1 - 2 p.m.
Event Category
Tags