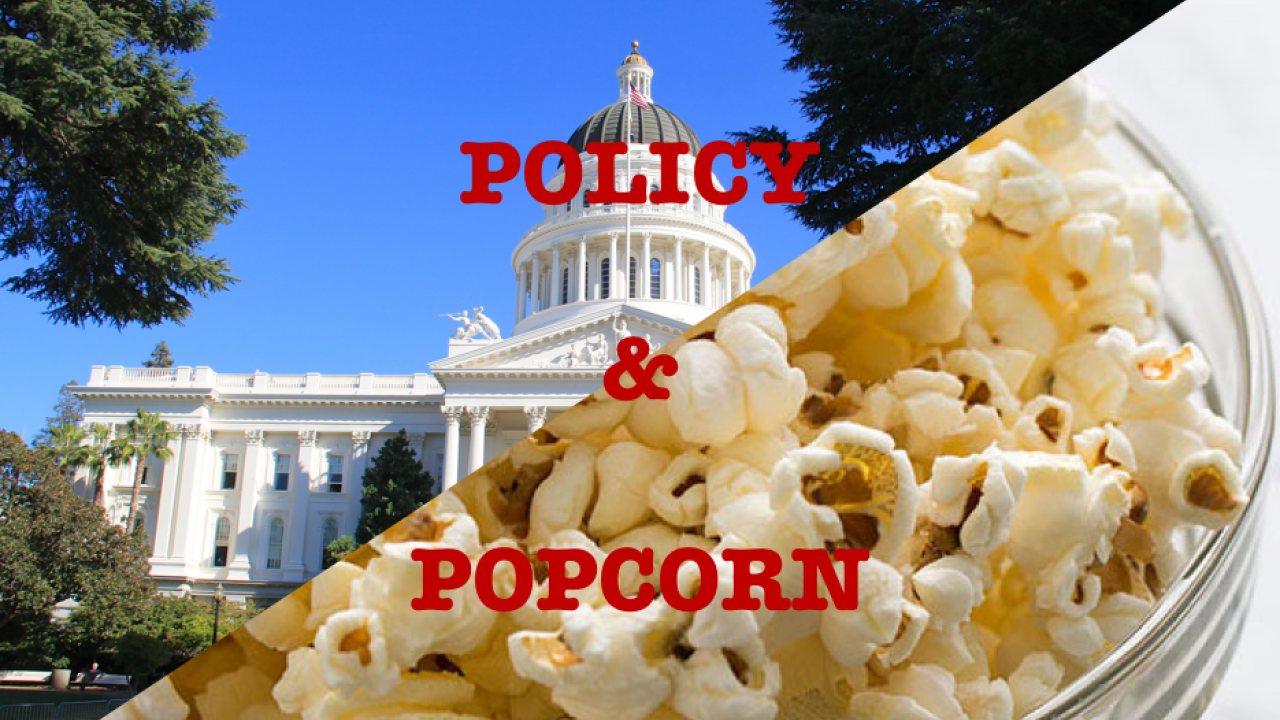 Please join the UC Davis Policy Institute for Energy, Environment and the Economy for the next installment of "Policy & Popcorn," a recurring monthly series of talks and discussions. 2019 was an eventful legislative year, with Governor Newsom assuming office against a backdrop of record-setting wildfires, legal battles with the Federal government, and major legislative efforts that could determine the future of Uber, Lyft, and other contributors to the "gig economy" in California. This session will review the monumental legislative year that was 2019, and discuss what's in store for 2020.
Popcorn and other snacks will be provided!
Presented by
UC Davis Policy Institute for Energy, Environment and the Economy 
---
About the speakers 
Teresa Feo is a Program Associate with the California Council on Science and Technology (CCST), where she works to deliver a variety of science services to the state (including most recently a series of briefings on wildfires at the State Capitol). From 2017–2018, she was a CCST Science Fellow with the California State Senate Office of Research. Prior to that, she was a researcher at the Smithsonian Natural History Museum in Washington, DC. Teresa earned a Ph.D. in ecology and evolutionary biology at Yale University and a B.A. in integrative biology at UC Berkeley. 
Amy Gilson is a committee consultant for the California State Senate Committee on Transportation. She develops policy broadly across the transportation issue area, with a focus on electrification of the transportation sector, shared mobility, the Department of Motor Vehicles, and transportation data governance. Before joining the committee, Amy was a California Council on Science and Technology Policy Fellow with the California State Assembly Committee on Environmental Safety and Toxic Materials and then a legislative aide to the chair of that committee, Assemblymember Bill Quirk of Hayward. She received a Ph.D. in Chemical Physics from Harvard University and a Ph.D. minor in Science, Technology, and Society (STS) Studies from the Harvard Kennedy School of Government. She holds a B.S. in Chemistry from the University of California at Berkeley. Outside of work, Amy sits on the boards of the Capitol LGBTQ Association and the Sacramento March for Science. 
Colin Murphy is the Deputy Director of the Policy Institute, where he helps guide research and outreach on issues relating to transportation, energy, air quality, and carbon markets. Prior to joining the Policy Institute, he was a Science Policy Fellow with the California Council on Science and Technology, and an advocate for sustainable transportation and energy policy with the NextGen Policy Center, where he helped extend California's climate programs through 2030. He has a B.S. in Biological Systems Engineering from UC Davis, a M.S. in Science, Technology and Public Policy from the Rochester Institute of Technology and a Ph.D. in Transportation Technology and Policy from UC Davis.
---
About Policy & Popcorn
The Policy & Popcorn series provides an informal setting for UC Davis students, researchers, faculty, and staff to learn more about the policy process and how to better engage. The sessions are hosted by the Policy Institute for Energy, Environment, and the Economy in close partnership with the Institute of Transportation Studies, the Energy and Efficiency Institute, and other key policy leaders around UC Davis. This series will bring you a wonk-like level of knowledge and experience with the accessibility of a 101-level class. There will also always be popcorn and snacks!
Tags