Never Losing Touch
Translating a Cooperative Approach to Massage Therapy into a Model for Community Development 
By Mary Martin-Mabry
Alex Volzer knows what it feels like to be an outsider.
He was born and raised in the small, rural town of Lima, New York — population 2,278 — where being different in any way didn't go unnoticed. Growing up, his mother used a wheelchair, his best friend had epilepsy, and he was gender non-conforming.
This was before the American Disabilities Act came to be, but even after it was passed in 1990, living in a rural area meant his mother often faced discrimination and community programs providing social and health support services were lacking. These familial hardships also meant the health issues he was experiencing went largely unnoticed and untreated.
Rather than staying aloof from his community, Volzer decided to step in where he saw a need and bring what he had to offer. His roots in upstate New York ran 400 years deep and local political involvement is ingrained in family history — his grandfather had been mayor the neighboring town of Avon and his dad was on the town planning board.  He was taught leadership is about giving back to the community that gives you so much.
"For me, community is an ongoing commitment to a place no matter the hardships the community faces. It's a commitment to the people there and everyone's future," says Volzer. "You don't just up and leave because it doesn't have what you need. If it doesn't have what you need, you create it."
He became a delegate on the citizens advisory board to the Livingston County Youth Bureau, serving as a voice for young people in the development of their programs and funding allocations. This evolved into political advocacy at state level, lobbying on behalf of the Bureau to ensure ongoing financing for programs serving young people in his community.  He wanted to help build the types of community support services rural areas didn't have but families like his desperately needed.
"I grew up in a household where my family needed help... I needed more than my family could give me and I fell through the cracks. I got involved with the Youth Bureau because I wanted to be involved in making our communities better, in having a better safety net for youth that were falling through the cracks," says Volzer.
A winding path
Volzer's academic journey has not been a straight line. After finishing high school, he left Lima – where his family and community did not support his sexual orientation and gender identity — to begin college in Ohio with the intention of becoming a doctor. During his freshman year, health issues arose he needed to address before he could successfully continue his courses. He had no home to return where he felt safe or welcome, so he soon found himself across the country in California. 
Distance gave him space to reflect on some of the more challenging parts of growing up in a small town where he was never fully accepted. Drawn to the power of touch, Volzer turned to massage therapy as a form of healing. He began a holistic health practitioner program in San Diego that came to shape his world view. The program required a significant number of clinical hours, many of which he performed in hospitals, working with people he described as being cast aside by society.
"One week we were learning how to work with patients who didn't necessarily have verbal skills, reading body language and figuring out consent issues and appropriate pressure," recalls Volzer. "It was in a wing with long-term patients, many of whom were homeless and I just remember working with patients that were so thankful, because so few people actually see them, they lost their touch to the outside world. It was probably the first time they were able to connect with someone in a long time. It was a really remarkable week."
A few years after receiving his certification in massage therapy, Volzer realized he needed formal business skills to be successful in his practice. He made his way north and enrolled in Butte College to continue his education.
Back into the swing of things
When Volzer decided to return to college, he didn't just dip his toes in, he dove in headfirst, revisiting his initial desire to become a physician by taking pre-med courses alongside business classes. 
While working towards his Associate's degree, he spent time in Chico and Paradise, developing a trauma-informed "community massage" model within a People's Organization of Community Acupuncture clinic, welcoming those who may not otherwise have access to care with low-cost and sliding scale services.
"My life changed from being in that cooperative structure; I learned an entirely new way of being," Volzer reflects. "We were breaking down the idea that we were the authority. As a massage therapist, I know a lot about bodies, but I'm never going to know more about your body than you — let's work together!" he continues. "Most people know what they need in order to get to the place they want to go. If we create institutions that support people, instead of telling them what they need or assuming they're fine, then everyone comes together."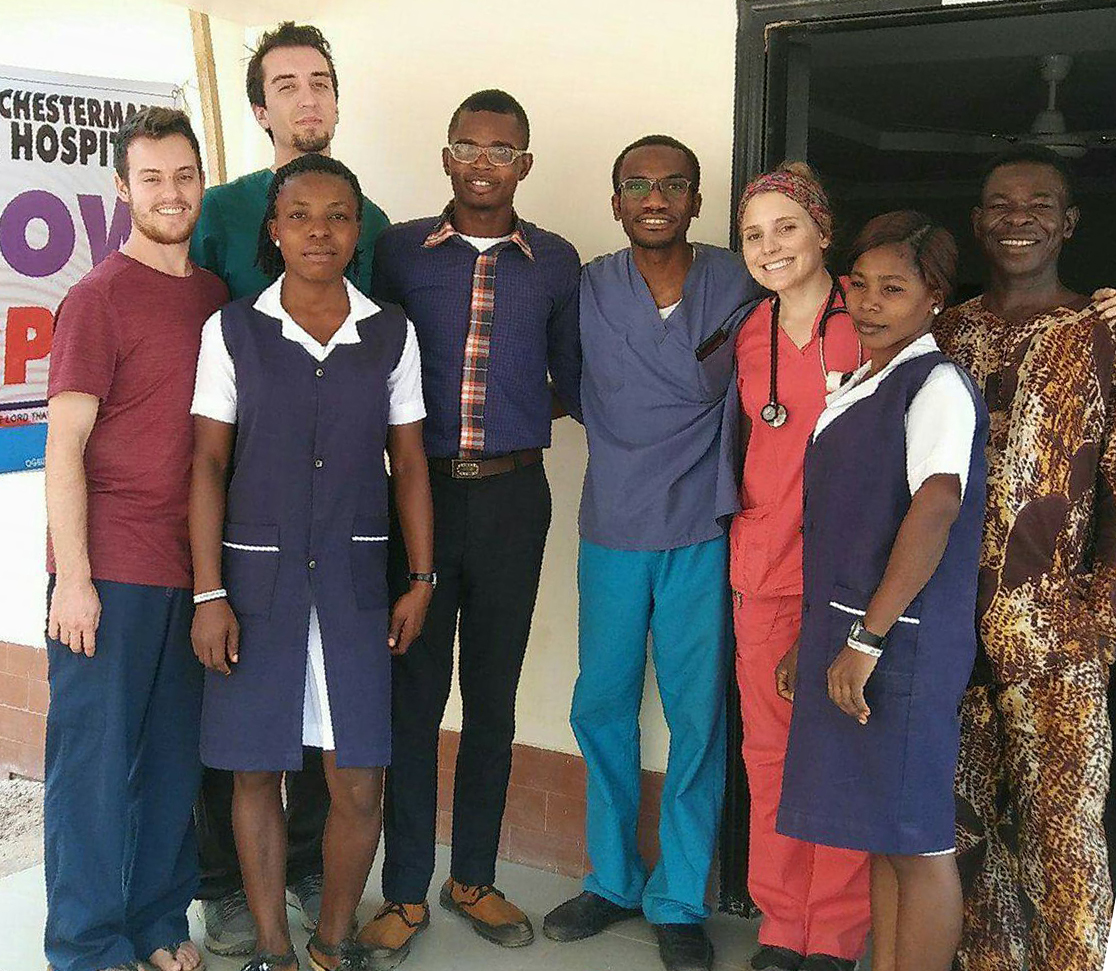 He was also serving as Vice President of the Butte College chapter of Phi Theta Kappa Honors Society, coordinating annual community service projects. Building upon previous year's work, their 2016-17 project was developing a medical waste disposal program for the Kristina Chesterman Memorial Clinic at Upon this Rock Medical Center in Ozu Abam, Nigeria. Over the course of two years, Volzer led a team to design an incinerator, met with Nigerian politicians to develop a state-wide plan to integrate the local project into, and trained medical staff on waste disposal protocols.
He began to understand the health issues he was seeing would be better addressed by an upstream approach —  focusing on social determinants of health like access to clean water, food sanitation, education, stable housing — than just bringing in more doctors. Volzer was still passionate about health and wellness, but no longer from a strictly medical standpoint. In 2018, he transferred to UC Davis to study community and regional development with a focus on rural issues.
A New Chapter
While finishing his undergraduate degree, Volzer was accepted into the Ted Bradshaw Engaged Student Scholar Program, which connects faculty and students with diverse leaders from government, business, non-profit, and philanthropic sectors, using research and data to address real-world problems. As a 2019 Scholar, he was interested in exploring a topic close to home — the influence of history and political ideology on rural economic development. He worked with Keith Taylor, an assistant economic development specialist in cooperative extension to perform institutional analyses of cooperatives and economic development organizations in Lake County under the Blue Ribbon Committee for the Rehabilitation of Clear Lake.
When the program ended, Volzer continued to support the work of the committee as a research assistant for the Center for Regional Change.  The 15-member committee — composed of representatives from tribes, Lake County, UC Davis and the Central Valley Regional Water Quality Control Board — is charged with making recommendations for rehabilitating Clear Lake, which is critical to Lake County's economy, ecosystem, and heritage.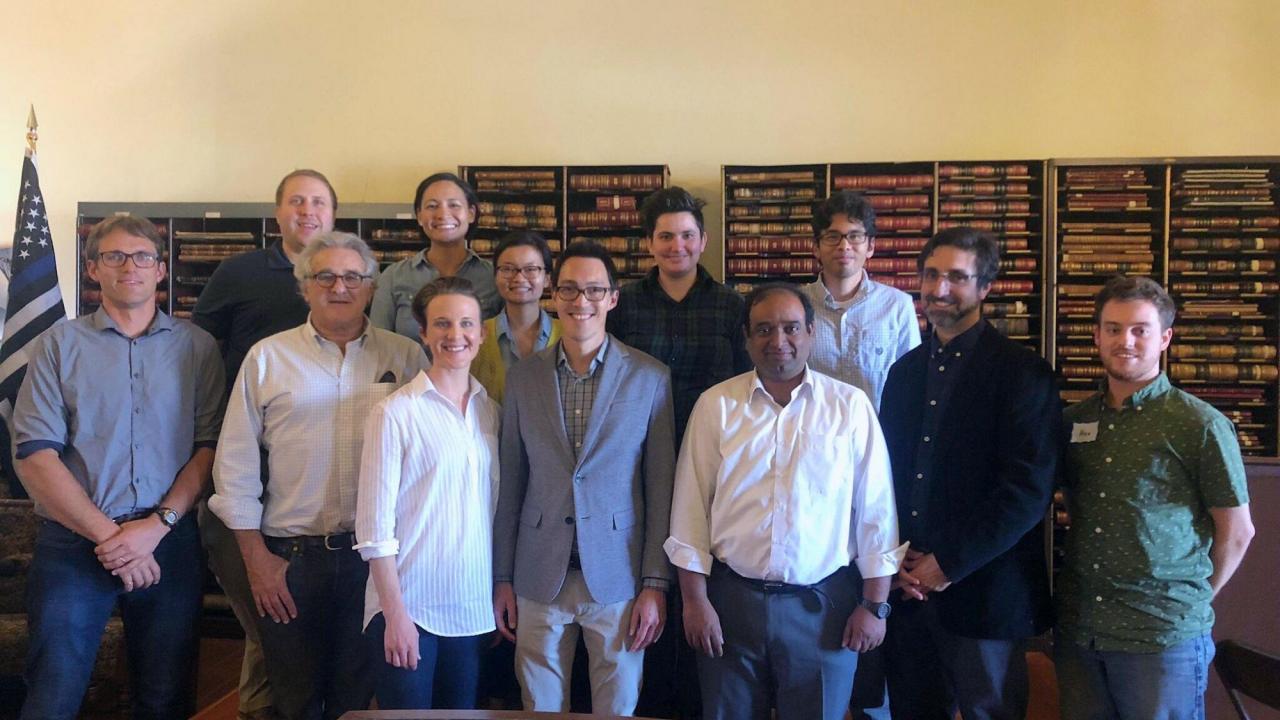 Volzer's upbringing in Lima and time living in Paradise help him relate to rural communities like Clear Lake. He couldn't do anything to help rebuild after the Camp Fire, but thought he may have a part to play in Lake County.
"It was my place. I mean, planning and regional development tends to be urban focused. Lake County was my opportunity to focus on rural issues. They have a lot of the same problems and power dynamics that I grew up with," Volzer continues. "Being so close to Silicon Valley, the shadow of the bay area is similar to the shadow of New York City hovering over the rest of the state. I was able to see things in Lake County that my colleagues couldn't necessarily see because I've been living in rural communities all my life."
Volzer finished his undergraduate degree and is now working towards his doctorate focused on human geography. The fires in Lake County and Paradise reinforced for him the inherent tension around natural resource depletion of and excess pollution that should addressed through economic development – like the creation of new programs and services. But for economic development efforts to be sustainable, decision-making must be inclusive and democratic.
His geographic research integrates elements of social science (how places are similar to each other and how society works) with humanities (what is unique about a place and how a specific community is glued together) to inform an approach to rural community development that facilitates health and wellness. Throughout his time here in Davis, he has maintained an active community massage clinic that's part of a growing network exemplifying the democratic economic development he's studying. He plans to expand his business model into a larger community development cooperative.
"Being within a cooperative structure, you get to take ownership and control over your life. It also taught me a lot about democracy and how hard it is. I think right now people see democracy as biding our time until we win and can tell other people what to do with their lives." Volzer muses. "But we still have to talk to each other face-to-face. If we're just biding our time to tell other people what to do with their lives, how are we ever going to live in communities? We'd just be a society of individuals."
---
About UC Davis Public Scholarship and Engagement
Public Scholarship and Engagement (PSE) is building and supporting meaningful relationships between communities and UC Davis scholars that work together to solve today's problems and tomorrow's challenges.
We envision a university unbound that seeks to serve the public, equitably and inclusively, resulting in reciprocal and mutual benefit to California's communities and beyond.
Primary Category
Tags