Build. Engineer. Tinker. Adapt.
Inspiring students of all ages to make things
Lee Martin '01, Ph.D. and associate professor in the UC Davis School of Education, is working with community partners, national agencies, and area high schools to inspire youth to build, engineer, tinker and adapt so they can learn more about Science, Technology, Engineering and Mathematics (STEM). 
"It's kind of do-it-yourself, hands-on engineering projects that, in a grassroots sorts of way, have become popular of late," Martin said
STEM learning through play
An alumnus of UC Davis, Martin graduated in 2001 with a degree in mathematics and linguistics. He received a Ph.D. in education at Stanford University before returning to UC Davis' School of Education to research cognitive and sociocultural perspectives on learning. As Martin advanced his academic career, the more he wanted to focus on research centered on learning and education.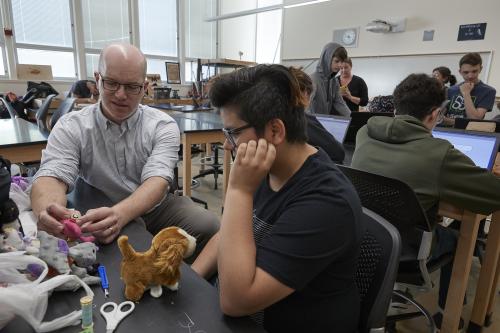 "I wanted something that was applied," said Martin, who has loved to tinker with things since he was a child. "And STEM was a perfect fit." 
Driven by his passion, Martin forged partnerships with area schools to bring two new programs to the region and, indirectly, found himself at the forefront of the national STEM movement.  
In Martin's programs, play is welcomed. No student is graded. They are encouraged to just go for it. The results – Martin is helping develop a new generation of makers with students bringing their ideas into a fully formed tangible objects.
"My research questions are focused on youth — how do they think and learn, what do they care about, what barriers stand in their way — so it makes sense to conduct research with them in their communities," Martin said. "It's impossible really to think of my research in any other way than to be engaged."  
The Maker Movement
It all started in 2012 when Martin received a one-year grant from The Spencer Foundation to study youth participation in the nascent Maker Movement.
"Some people see the Maker Movement as a return to something fundamentally human – making things, working with our hands, sharing ideas," Martin said. 
A year later, Martin received a prestigious CAREER grant from the National Science Foundation (NSF) to fund five years to research STEM engagement in the local community, including a local Boys and Girls Club.
The Beta Lab Van
The NSF grant also allowed Martin to develop a program, that lets him take his STEM show on the road: the BETA Lab van, which stands for Build, Engineer, Tinker, Adapt. 
"It's a mobile maker space," he said.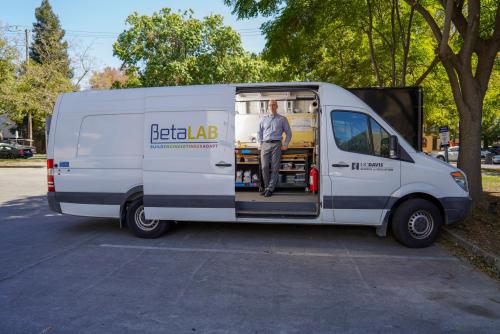 The Beta Lab van is a mobile workshop with tools, woodworking supplies, electronic equipment, Post-It notes, glue sticks, pipe cleaners, a laser cutter, sewing machines and even a 3D printer. 
His van's destinations are area schools where elementary, middle and high school students find a pathway to adaptive expertise. 
"By adaptive expertise we mean flexibility in thinking and problem solving," Martin said. 
The students do that by making things.
Learning STEM by Making Things
What are these things? A cloak, a remote-controlled car, an LED illuminated headboard, a table, some 3-D roller derby logo badges, a dog agility trial jump, a footstool for classical guitarists, a Star Wars cosplay helmet, and an LED lantern. 
In creating these objects, students apply STEM principles and out-of-the-box thinking to design these objects. For example, to make a sign, one student learned digital design software and how to use a laser cutter to create letters. He also used mathematical and spatial thinking to plan out the scale and arrangement of the letters. 
"In one particularly fun project, a student used a 3-D scanner to scan his teacher," Martin said. "From that, the student created Oscar-statue-like trophies that looked like that teacher. He gave them as prizes to winners of a film contest the teacher sponsored."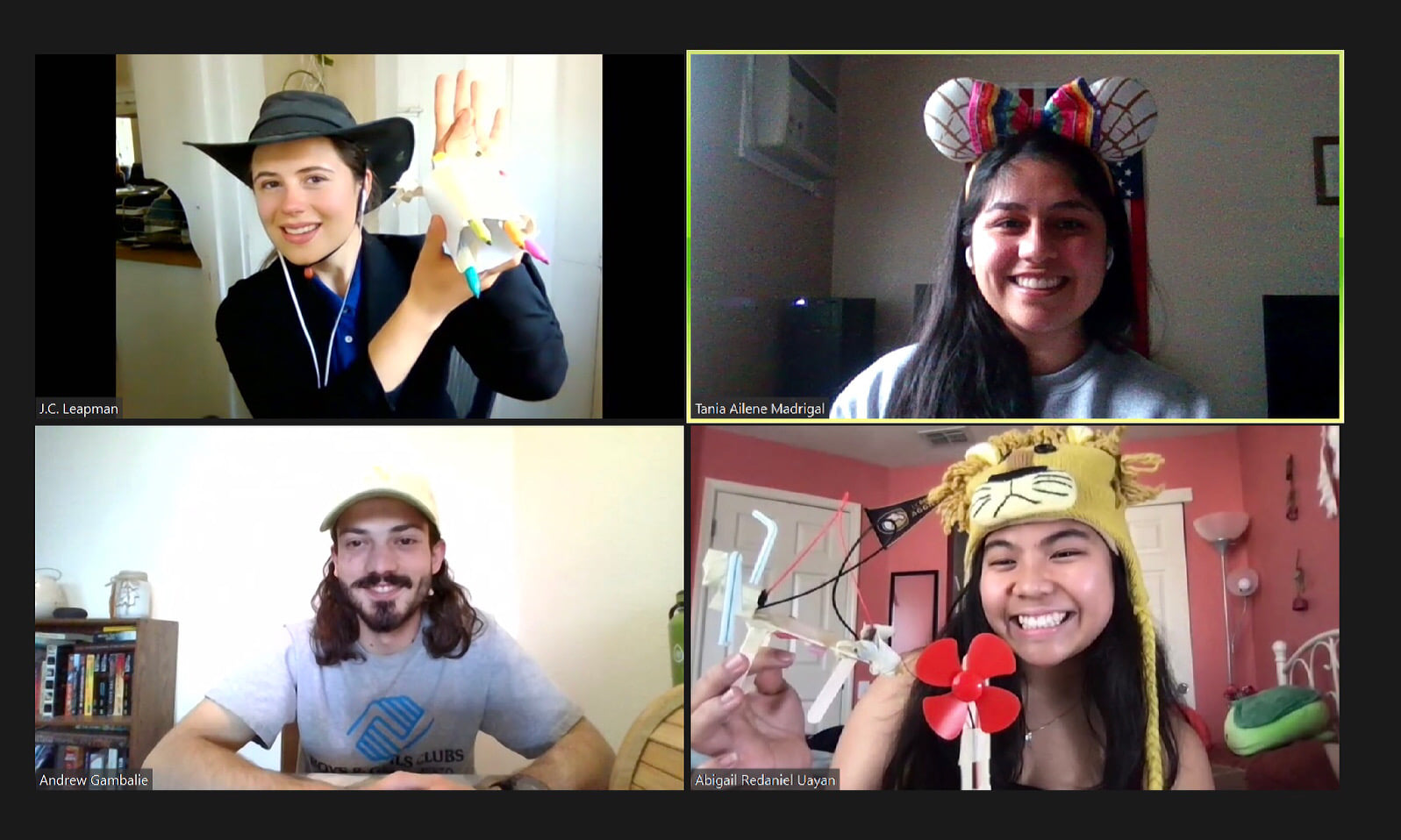 Reflections on Community Engaged Learning During a Pandemic
Lee Martin, Associate Professor in the School of Education and 2020-21 Community-Engaged Faculty Fellow reflects on his experience teaching during the pandemic, and the support he received from his Faculty Fellows cohort.
Engaged, public scholarship
Martin partners with teachers, mentors and other trusted educators pivotal in the students' lives. The partnerships help Martin connect with students and present them with the opportunity to give STEM a try. Even though today's students are now digital natives, Martin says they may or may not think of digital technologies as STEM when they walk in the door.
A big engagement concern for Martin is STEM's educational inequality, particularly in school subjects that students may fear in a classroom. The can-do environment Martin facilitates makes STEM more accessible. Aware that STEM fields in the workforce tend to be dominated by middle-class white and Asian men, he hopes his program, which is focused on fun and creativity, will inspire more students — especially girls, students of color and other marginalized kids — to see themselves as capable and creative STEM practitioners. 
"How can we come to know these kids better, come to understand them and create a space in which they feel valued and safe, that they belong?" he asked.
It's a question he is determined to answer as he tinkers with and grows his program going forward. As much as the students have learned from him, Martin has learned just as much from the teenagers he mentors. 
"Through this work, I've developed a deeper appreciation for and understanding of a number of core principles like patience, authenticity, and trust," he said.  "My experiences over the past years have taught me about what it actually looks like to build mutual trust across a partnership, why it is important to offer up and foster authenticity in interactions with youth, and the value of patience."
---
About UC Davis Public Scholarship and Engagement
Public Scholarship and Engagement (PSE) is building and supporting meaningful relationships between communities and UC Davis scholars that work together to solve today's problems and tomorrow's challenges.
We envision a university unbound that seeks to serve the public, equitably and inclusively, resulting in reciprocal and mutual benefit to California's communities and beyond.
Primary Category
Secondary Categories
Tags