Closing the Digital Divide
Community-engaged learning connects students and older citizens
Laughter bounces off the tile floor in the Davis Senior Center as small groups of UC Davis students huddle with older adults around laptops. They are working together to price out flights to visit family, write emails or buy medicine online.
"Let's see what happens when I do this," said Christine Adams, of Davis, as she pecks at a key on her laptop. "Okay, now how do I pick an emoji using the keyboard?" 
Empowering older adults
This is the scene of a new community-engaged learning course at UC Davis that is both teaching UC Davis students about intergenerational learning, as well as helping combat age segregation and digital exclusion among older adults.
The course, "User-Centered Design and Technology Training of Older Adults in the Community," is led by Lisa M. Soederberg Miller, professor of human development, in partnership with the Davis Senior Center and Yolo Healthy Aging Alliance. It was made possible by the Community Engaged Learning Faculty Fellows program, or CELFF—one of the several programs offered by UC Davis Public Scholarship and Engagement to promote community engaged teaching and research.
"Teaching older adults how to use technology is what we are doing, but it's not why we are doing it," Miller said. "We want to help these older adults feel connected and empowered to pursue more learning opportunities on their own in the future."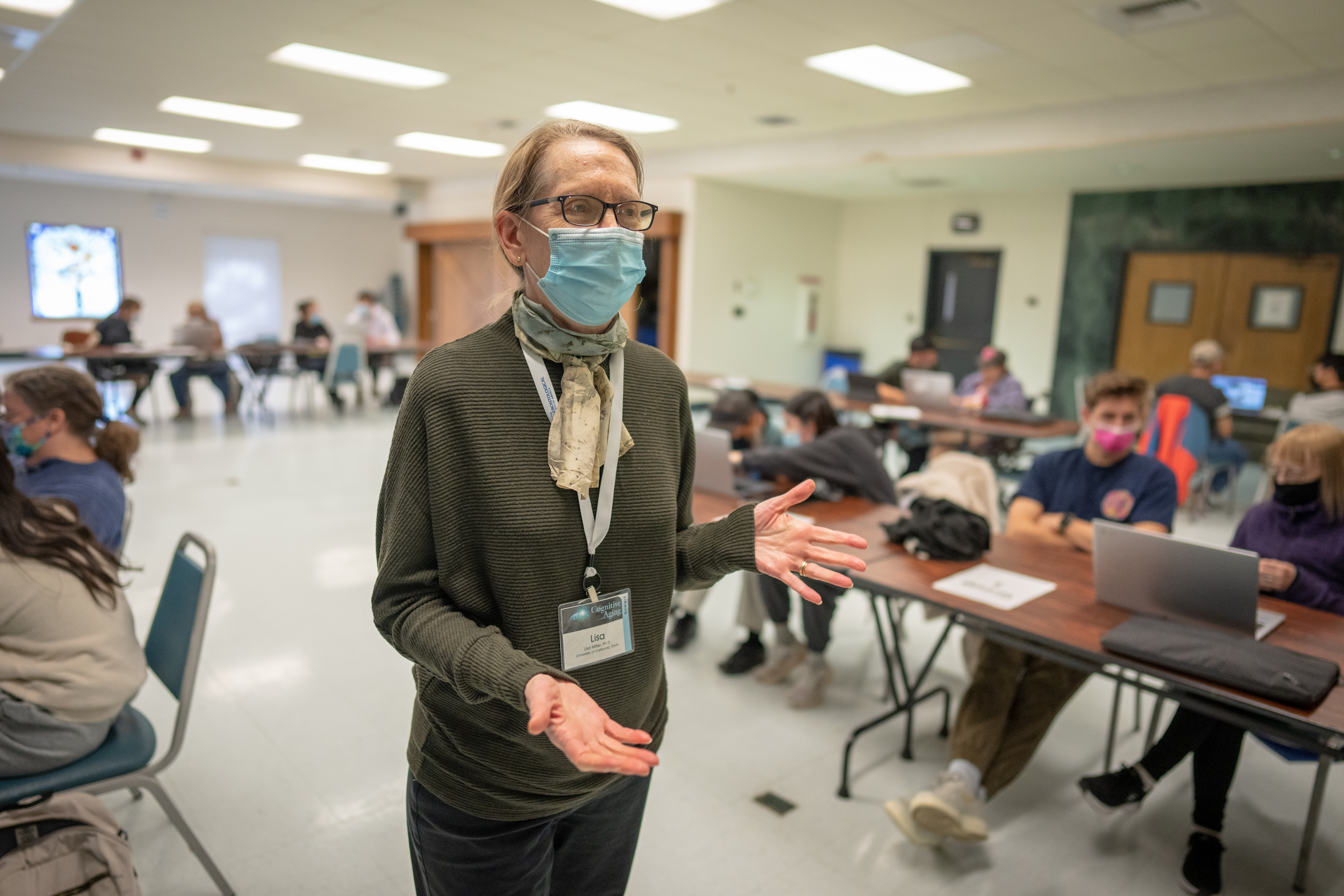 Service, teaching and research in one
Miller said the CELFF fellowship opened her eyes to the nuances of community-based learning and taught her the skills to share that knowledge and mindset with her students.
"Community-engaged learning is an entirely different way of approaching teaching," Miller said. "It is not just service, or teaching, or research; to me, it's service, teaching and research all in one."
The 2020-21 CELFF program allowed Miller to experiment with community engagement in an existing course in which students spoke with older adults about technology issues over the phone. In fall 2022, Miller created a two-credit first-year seminar in which students visit Davis Senior Center and provide older adults from low-income communities with personalized instructions on computers and web-based technologies. The CELFF program helped Miller strengthen the curriculum and a partnership with Davis Senior Center, which provided the space for the class, and the Yolo Healthy Aging Alliance (YHAA). Together, Miller and YHAA also obtained Yolo County Recovery Act funds to support the project, which included a free laptop and two-year internet connection for all seniors in the class. At the end of the 10-week course, the students presented their senior partner with a personalized manual summarizing all the tutorials they covered in class.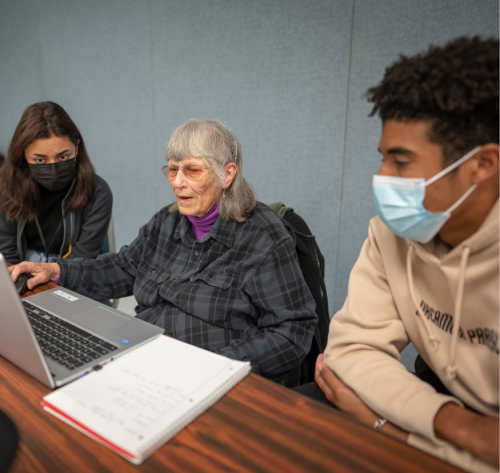 Enriching for all
The experience has been enriching for all. Older adults in the class, many of whom realized during the pandemic that they could no longer procrastinate on learning technology, said they were overjoyed to receive the one-on-one instruction.
"I've been begging my family to show me how to do things, but they never had the time. The students here are all so patient. I don't remember being that patient when I was in college," said Davis resident Erica Crosby with a laugh. "Now I can access the internet at my apartment. I couldn't do that before."
"Whoever came up with this program deserves a lot of 'thank yous' for their foresight and generosity with creating this program," said participant Adams, adding she is hopeful she will learn how to video chat with her daughter who is living in England. 
The UC Davis students in the class say they found a lot of joy working with older citizens in the community, and appreciated the hands-on learning aspect of the class.
"One of the main reasons I decided to come to UC Davis was because of the small town, community feel," said Carmen Flores, a transfer student majoring in design. "I like that they are encouraging us to be with the community through this class. It makes me feel that I'm a part of the Davis community, not just the UC Davis community."
Call for system-wide support
Community-engaged learning drives Miller's work, but she said it also has challenges. For example, Miller has 20 community partners with which to execute this course—the Davis Senior Center, Yolo Healthy Aging Alliance and 18 senior citizens—plus the 30-plus students who are taking the class. Miller chose to use sabbatical leave to better accommodate the extra time required to set up the new pilot course.
"There is tremendous value in this type of learning, but I would like to see more support for it across the university," she said. "It should be applauded when faculty take advantage of the fellowship program that PSE offers, and subsequently apply the learning to new courses, but university departments would need to value it enough to integrate community-engaged learning courses into the curriculum."
Building community partnerships
Courses such as this break down misperceptions associated with ageism. While the older adults were the ones who receive assistance with the technology, Miller said she and her students also benefited because the course helped them truly understand what low-income older adults needed. And community partners involved with the project said the synergies Miller and her students created made the program more robust than they could have hoped.
"This program wouldn't be possible without the students," said Nathan Reed, outreach worker for Yolo Health Aging Alliance. "The collaboration has worked really well. Not only did it make it logistically possible, but it was great to have partners to problem solve issues we encountered as we were building the program."
Primary Category
Tags