Building Community through Friendly Competition
Center for Community and Citizen Science Helping to Coordinate Regional Participation in City Nature Challenge
The City Nature Challenge began five years ago as a competition between San Francisco and Los Angeles, motivating residents to find and document wildlife in their homes, backyards, and communities. Since then, the competition has expanded into more than 360 cities worldwide; the Sacramento region began participating in 2019 with support from the UC Davis Center for Community and Citizen Science, California Naturalist and Wild Davis.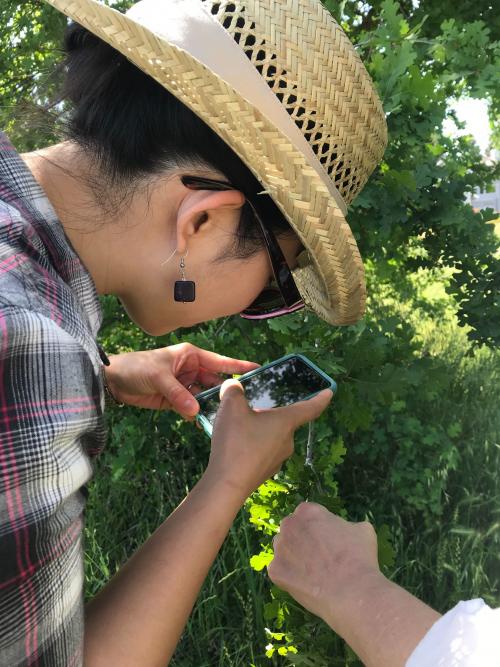 "For the Center for Community and Citizen Science, helping to coordinate the Sacramento City Nature Challenge has been a wonderful opportunity to make new partnerships, and strengthen existing connections to people and organizations in our own backyard," says Executive Director Ryan Meyer. "I've also learned so much from the creativity and enthusiasm that organizers bring to making this event a success in the last few years, especially the undergraduate students who work with us."
Regional co-organizer Laci M. Gerhart-Barley, an assistant professor of teaching in the Department of Evolution and Ecology, teaches a California Naturalist course on urban ecology called Wild Davis each spring, where students participate in the City Nature Challenges and learn to use iNaturalist.
An advantage of using iNatualist as an instructional tool is artificial intelligence and community-assisted identification, finds Gerhart-Barley. "iNat users who are not very knowledgeable on local wildlife, or not very confident in their identifications, can use the AI suggestions and have their identifications confirmed or specified by more experienced iNat users. In this way, iNat supports users in practicing and honing their ID skills and connecting with other naturalists in their region,"
While Gerhart-Barley focuses on how the app and the City Nature Challenge benefits user's knowledge of wildlife, she says it's also important to note that the observations users post are valuable data and have been used in a variety of peer-reviewed research projects including documenting species ranges, identifying new species, and classifying types of urban habitats.
Each region has just four days (April 30- May 3) to gather the most observations of nature, find the most species, and engage the most people in this annual "bioblitz." Last year, more than 750 people in the Sacramento region participated in the City Nature Challenge – in the midst of a global pandemic, no less. This year, regional co-organizers have a goal of 1,000 participants, but the challenge will focus less on competition and instead embrace the healing power of nature and celebrating people in communities around the globe searching and documenting their own local biodiversity.
"One unexpected positive outcome of the COVID-19 pandemic restrictions on outdoor activity during the 2020 City Nature Challenge was that participants focused on organisms in their own backyards," Gerhart-Barley reflected. "Often, people feel they need to go to a park or other green space to 'find' nature, and don't realize how much wildlife surrounds them even in a stereotypical urban setting. Look closely at the landscaping around your apartment complex or in the parking lot at work and I guarantee you'll find something interesting."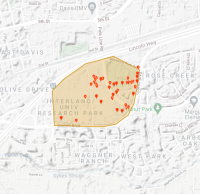 Drew Avenue Biodiversity
Ryan Meyer started an iNaturalist project for the Center for Community and Citizen Science. Check out observations around the UC Davis School of Education's Drew Avenue offices in South Davis. 
Not only is the City Nature Challenge a great excuse to go explore beautiful places throughout the Sacramento region, this collaboration-meets-friendly-competition is a powerful demonstration of what can be accomplished when we all work toward a common goal.
"I'm also excited about where we could take this if it continues to grow each year," Meyer adds. "Learning about nature in our communities is valuable in and of itself, but this also leads to many other questions that we could start asking about the design of our cities, and how biodiversity and ecology are connected to our day-to-day lives in urban environments."
HOW TO PARTICIPATE IN THE CITY NATURE CHALLENGE 
Find: Find a plant or animal wildlife in your home, backyard or city*
Photo: Take a photo with your smartphone or camera – be sure to note the location
Upload: Upload the photo to iNaturalist (available on web or mobile.)
Visit the Sacramento City Nature Challenge website for more ideas and resources on how to participate,
and use social media (Twitter, Instagram, Facebook) to jump into the conversation.
*For an observation to count for the greater Sacramento region, it can be made in Amador, El Dorado, Nevada, Placer, Sacramento, San Joaquin, Sutter, Yolo, and Yuba counties.
Primary Category
Tags