Creating a University – Community – Tribe Research Collaboration to Build Capacity for Food Security
By Woo Il (Willy) Ju, Research Coordinator, UC Davis Health
There is a long history of tribal disenfranchisement through government policies that has contributed to a lack of trust and participation by tribal communities in outside organizations and initiatives. Community Based Participatory Research (CBPR) approaches can help with establishing trust among university and tribal communities through the co-creation of research. One such example of a five-year collaborative tribal-university research study with UC Berkeley and UC Davis researchers and the Karuk, Yurok, and Klamath Tribes showed that "access to native foods and intergenerational knowledge transference were strong predictors of food security…"1 A more recent paper with Native American youth citizen scientists showed that the youth in the Karuk Tribe, collaborating with university scientists, were able to conduct youth-led community health and food assessment surveys that could be done with a response rate of 100% of those approached.2
As a result of the study, "They uncovered community concerns about the health of residents and healthfulness of food choices in schools, as well as a significant difference related to confidence in making healthy food choices between those who are and are not physically active. The Tribe applied the study findings with youth in alignment with cultural values and practices investing in developing community gardens, improving school food quality, and promoting native food practices that incorporate physical activities such as hiking, gathering, and preserving food."
Building on these experiences and relationships, Dr. Katherine Kim at UC Davis partnered with the Nature Rights Council (NRC), a local non-profit organization in the Klamath Basin led by Samuel Gensaw, a Yurok Tribe member, and Amber Shelton to increase the research capacity for Yurok food sovereignty. The NRC implemented a program called Victorious Gardens focused on empowering pregnant Yurok women and their families through training, building home gardens, and a subscription delivery program for ancestral foods. The aims of the UCD-NRC collaboration are to 1 ) create a shared understanding of research and evaluation for the partners involved as a foundation for development of a longer-term research collaboration 2) develop research and evaluation capacity for staff of the Council and other members of the local community and Tribes including the use of technology and informatic tools 3) understand stakeholder perspectives on the food sovereignty pilot and its potential to become a sustainable program to address food insecurity and health in other communities.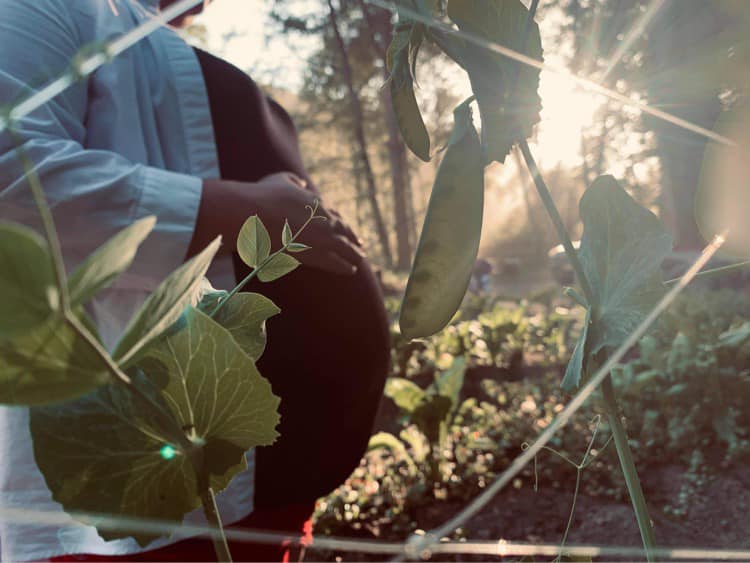 In November 2020, I had the opportunity to learn about the health disparities that face the Yurok Tribe community by joining in on a zoom workshop facilitated by Dr. Kim.
"Currently, the Yurok reservation in the Klamath Basin is considered a food desert lacking access to basic foods such as fresh produce, meats, dairy products and healthy food options. The only store in the lower Yurok Reservation is a gas station, which means that families have to travel an hour or more just to get to a basic grocery store. For many of the families in this area, travel time and expenses to go food shopping are prohibitively expensive, especially for those who can barely pay house bills and are working a job, trying to go to school and/or raising children as a single parent."3
Two zoom workshops of three hours each kickstarted the project to enhance research and evaluation capacity for the Yurok food sovereignty programs. Attendees of the workshops included folks at the Nature Rights Council, a student in the community, the food program coordinator at the Family Resource Center of the Redwoods, and the division chair for food sovereignty for the Yurok tribe. From start to finish of the workshop, I saw aspects of CBPR principles in the approach of the workshop. For example, after all the introductions and light icebreakers Dr. Kim asked every single person on the call, "What do you hope to gain from this workshop and this collaboration?" In my opinion, this was a very important question that set the tone for this entire collaboration by increasing transparency and trust among the workshop attendees.
As part of the workshop, we went through evaluation tools such as logic models, SMART (Specific, Measurable, Achievable, Relevant, Time-bound) objectives, and SWOT (Strengths, Weaknesses, Opportunities, Threats) analysis. Going back and forth with those on the zoom call, we were able to better understand the priorities of the NRC and equip attendees with the program evaluation tools/framework to be successful in building research capacity for their programs.
For the NRC, their priority was clear, as Amber Shelton put it, "It's really about solving food insecurity".4  And for Sammy, whose vision is to provide healthy opportunities for his community, hoped that the collaboration and research capacity building workshops would help with their priorities of "wanting to understand how to do our own studies, learn how to do grant writing, and making more connections. All around be able to provide healthy opportunities to our communities. And that's our top goal!".5
At the end of the session, Dr. Kim facilitated a brainstorming session about future potential collaborations across the different stakeholders to improve research, evaluation, and programming. Currently the NRC team is collecting data using the tools and logic model developed in the workshop.
Learn more about their PIRI Grant Project
1Sowerwine, J., Sarna-Wojcicki, D., Mucioki, M., Hillman, L., Lake, F., & Friedman, E. (2019). Enhancing Food Sovereignty: A Five-year Collaborative Tribal-University Research and Extension Project in California and Oregon. Journal of Agriculture, Food Systems, and Community Development, 9(B), 167-190. https://doi.org/10.5304/jafscd.2019.09B.013
2Kim, K. K., Ngo, V., Gilkison, G., Hillman, L., & Sowerwine, J. (2020). Native American Youth Citizen Scientists Uncovering Community Health and Food Security Priorities. Health Promotion Practice, 21(1), 80–90. https://doi.org/10.1177/1524839919852098
3Sowerwine, J., Mucioki, M., Sarna-Wojcicki, D., & Hillman, L. (2019). Reframing food security by and for Native American communities: a case study among tribes in the Klamath River basin of Oregon and California. Food Security, 11(3), 579-607.
4Amber Shelton. (2020). 'Discussion around organization priorities'. Yurok Food Sovereignty Project Training 11 November 2020. UC Davis and NRC: Zoom.
5Samuel Gensaw. (2020). 'Discussion around organization priorities'. Yurok Food Sovereignty Project Training 11 November 2020. UC Davis and NRC: Zoom.
Primary Category
Tags