Cows, Food Security and Climate Change
Growing up in Eritrea, I loved milk.
Not only did I love the way it tasted, but I was fascinated by it. I always wondered how a cow could convert grass and straw, inedible to humans, into nutritious milk. That curiosity, encouraged by my parents, helped me decide in studying biology. I discovered the beauty of intricate symbiosis between microbes and cows that leads to milk production. My main goal was to improve production of animal products, particularly in low-income countries, so that no one has to suffer undernutrition and prevented from meeting their potential.
However, just as I was finishing my graduate studies, an international treaty on greenhouse gases was signed in 1997 that altered the course of my career. The adoption of the Kyoto Protocol was a watershed moment for my career as I shifted to studying the impact of livestock on the environment. As it happens, improving productivity and reducing impact on the environment are not mutually exclusive. I developed a dual tract in my programs, which I still follow as a professor at UC Davis.
Engaging the public to combat misinformation
As my career progressed, I started to notice quite a bit of misinformation regarding livestock production. Most of it was coming from people who had no background in livestock production and it was limited to the conditions present in high-income countries.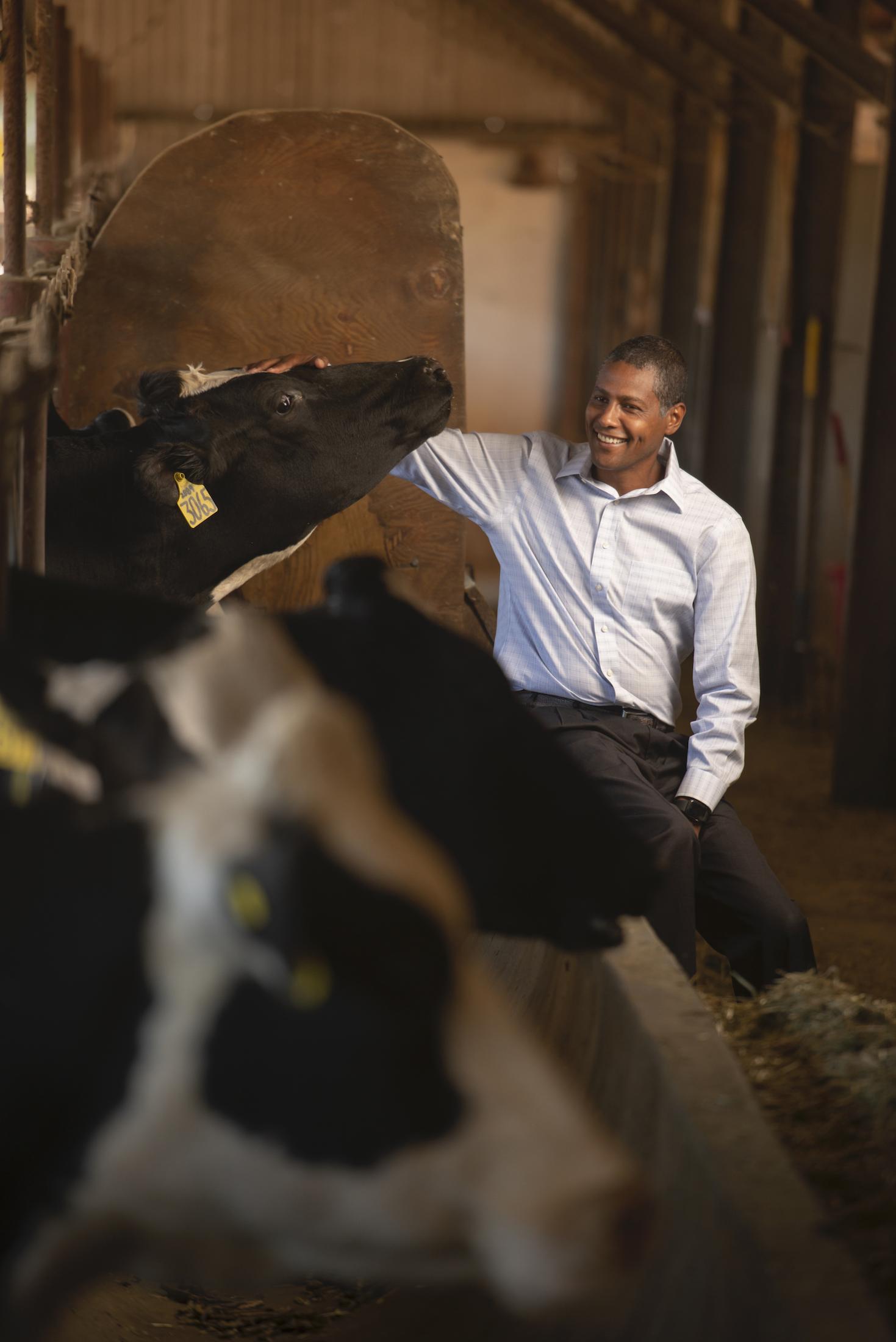 Cattle are an integral part of our society and contribute to a multitude of human activities beyond food production. These include income, heritage, insurance, labor, and culture. My family owned cattle, sheep and goats that my uncle raised with his own. In fact, when I graduated college, we sold a couple of goats so I could buy a suit to wear on graduation day. I decided to use my background and involve myself in research focused on this public issue—specifically the benefits of cattle in low-income countries and the need to reduce absolute emissions in high-income countries.
Livestock's contribution to society has an associated cost in terms of environmental impact, as do many other agricultural activities. However, the environmental impacts of livestock are much lower than what most people think, namely because of misinformation they receive through social media outlets. As I conducted my research, I've made a concerted effort to engage with the public and share my research through news stories, radio interviews, podcasts, TED Talks and blogs like this one. As I engaged with the public, I would also ask people to guess what the livestock emissions are and well-educated people consistently estimate it to be well over 30%. In the U.S., about 10% of direct greenhouse gas emissions are attributed to agricultural activities in general and about 4% to livestock production. It becomes essential to put emissions in perspective in public debate and work toward reducing emissions from all sectors of the economy equitably.
Cattle industries in the U.S. and other high-income countries have made commitments to reach net-zero emissions by or before 2050. My lab in collaboration with international team of researchers are working to help achieve this goal.
At a minimum, we will need to start reducing absolute emissions by about 1.5% annually between now and 2050. Is this achievable? If so, how can it be done?
Cutting methane burps
We have been experimenting with several feed additives that have the potential to reduce methane emissions from burping (or enteric) substantially. In 2018, my lab started testing at the UC Davis Dairy barn to see if feeding seaweed to dairy cows would reduce methane emissions. The preliminary findings showed over 50% reductions in methane, leading my team to expand the testing with additional cattle in summer 2020. In that project, my team experimented with beef cattle by adding a small amount of seaweed to their daily diet. Through this work, we proved cattle that consumed doses of 80 grams (three ounces) of seaweed or less per day emitted up to 82% less methane in addition to having a better weight gain compared to their herd mates. The innovative work on alternative cattle nutrition has been gaining worldwide attention for its climate friendly attributes as summarized in my TED Talk.
A 'truly global' approach
According to the Food and Agriculture Organization of the United Nations, methane emissions from livestock rose more than 50% between 1961 and 2018, and are expected to continue to rise as demand for animal products increases, especially in countries with growing populations and income. Improving the efficiency of livestock production will be an even more effective strategy for reducing global methane emissions. Therefore, for low-income countries, we are developing a ration formulation mobile app that also tracks carbon footprints for different livestock supply chains. These are developed in the languages in which they will be used. So far, we have developed or apps to track methane emissions in cattle and sheep in Vietnam, Cambodia, Laos, Ethiopia, Burkina Faso and Nigeria in several languages. We expect to expand this work to make it truly global so that users can choose the country and language they would like to use to formulate diets to improve productivity of their livestock while reducing the environmental impact of producing a gallon of milk or a pound of meat.
While we expect total emissions from livestock production in low-income countries to increase in the next decade or so, we are working to help high-income countries to offset that by reducing total emissions through the use of feed additives, feed efficiency gains and other strategies. We do have the solution at hand but needs to be deployed within the next few years to start reducing methane significantly.
If we get feed additive and other solutions deployed sooner, with public support, we can get to livestock climate neutrality much earlier. This is why public engagement by scientists is essential as it influences policy and combat misinformation for better outcome to the society.
Primary Category
Tags