A Different Kind of Block Party
How Public Scholarship is Helping Designers Rethink Communities From Independent Living to Disability Collectives
Block Party reimagines the architecture and urbanism of a section of Berkeley, California, through the perspectives of disability and housing justice. Created by a multidisciplinary team composed of disabled and non-disabled architects, artists, and authors, the project seeks to answer two important questions:
What form might a multiracial, disability community take today?

What kinds of housing and public spaces could support not only "independent living"—a long-held goal among disability rights advocates—but also strive for mutual aid and communal flourishing?
To explore the architecture and design of this community, two professors from UC Davis, Brett Snyder and Javier Arbona have partnered with David Gissen from the New School in New York and Irene Cheng from California College of the Arts to assemble a unique interdisciplinary team. With prominent disabled voices leading our group, we believe that our project lives up to the mantra "nothing about us without us."
Reset: Towards a New Commons
The proposal is part of a group exhibition at the Center for Architecture in N.Y. that features four interdisciplinary teams each selected for their unique vision on re-imagining the commons in light of the COVID-19 pandemic. As the Center for Architecture stated in their call:
"Contemporary American society has become increasingly fragmented, with people separated both physically and socially based on ability, age, income, and belief. This fragmentation is built into the urban fabric of cities, suburbs, and rural areas, which wittingly and unwittingly isolate certain groups from larger communities through the design of spaces according to specific needs. A host of colliding crises, including the COVID-19 pandemic, embedded structural racism, and deepening political polarization, have only exacerbated these divisions."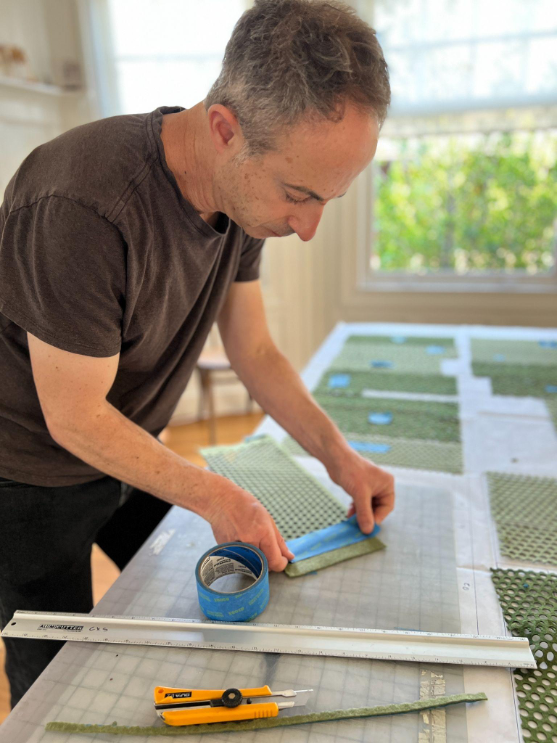 Reset: Towards a New Commons considers how spaces may be designed for all, addressing the need for barrier-free environments and practices rooted in Universal Design. The exhibition explores how architecture can address Universal Design while helping to create communities that foster inclusion, cooperation, and mutual assistance in the broadest of terms. It was developed over almost a year, through support from the UC Davis Public Scholarship and Engagement, which gave us time to devote to a variety of efforts that culminated in audio interviews, drawings, and models.
Berkeley, a Center for Disability Justice
The reason we, as a team, chose Berkeley as the location for this project is because it's one of the birthplaces of independent living. It's also the birthplace of single-family zoning and some of the first places in the country that addressed the disparities around home ownership among various groups of people and why single family housing was distributed in certain ways became clear.
The challenge our team was trying to address was,  how do you develop a critique of property and land settlement through the lens of both disability and race in these areas. Our proposal was built on a series of questions that we asked both internally as a team, as well as through interviews with community stakeholders.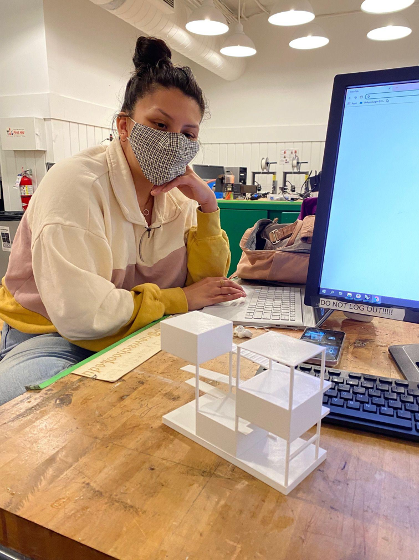 These questions included:
What new forms of home ownership and home security can we create in this neighborhood, and how might that cause us to rethink how to redraw the property?

What new ways can we imagine moving through a city block that aren't always in deference to property, like ideas about trespass and so forth that may aid people who use chairs or have mobility impairments or are blind move through urban space more easily, so you're not always pushed to areas where there's automobiles and sidewalks with people coming in and out of driveways?

What kinds of accessible housing can we create?

What kinds of pleasure can we bring into a block that come from a disability perspective?
What we learned
While many of my own past projects have involved novel methods for participation, this project took a more traditional approach of stakeholder interviews. Following the public scholarship model, it was important for those with disabilities to lead the conversation. In doing so, we create materials that are more accurate and authentic to the needs of our community and can be used in design proposal submissions and for continuing the conversation.
Part of this process, led by David Gissen, included creating a tactile model for one of the team members Georgina Kleege, a leading voice in the disability rights movement and resident of Berkeley who is blind herself. This tactile model enabled conversations about some of the urban strategies. The model included raised portions to show how a new path could use setbacks to create a new zone that would act as a shortcut for moving through a city block, which we referred to as a team as the "meander" path.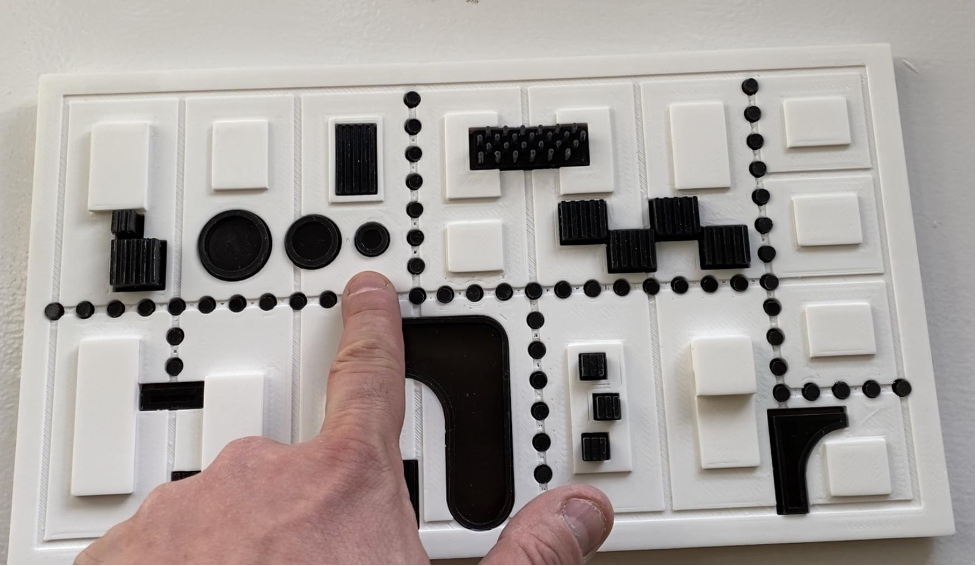 The Exhibition
The gallery exhibit, developed by the Block Party team includes four elements:
A large mural that shows where the team proposes its interventions and explains the project's key architectural and urban concepts.

A model of a block in South Berkeley that illustrates the way the team reimagines property ownership, urban circulation, housing, and communal space within the neighborhood.

An audio narrative that collects portions of interviews conducted by the team with Berkeley residents and disability and housing activists.

Finally, a tactile model–initially created to collaborate with a blind team member–offers gallery visitors an additional means to access the project's architectural and urban strategies.
The exhibition will be on view at the Center for Architecture, New York from April 14 - September 3, 2022 for more information.
Reset: Towards a New Commons has been co-curated by Barry Bergdoll, Meyer Schapiro Professor of Art History and Archaeology, Columbia University, and Juliana Barton, independent historian and curator.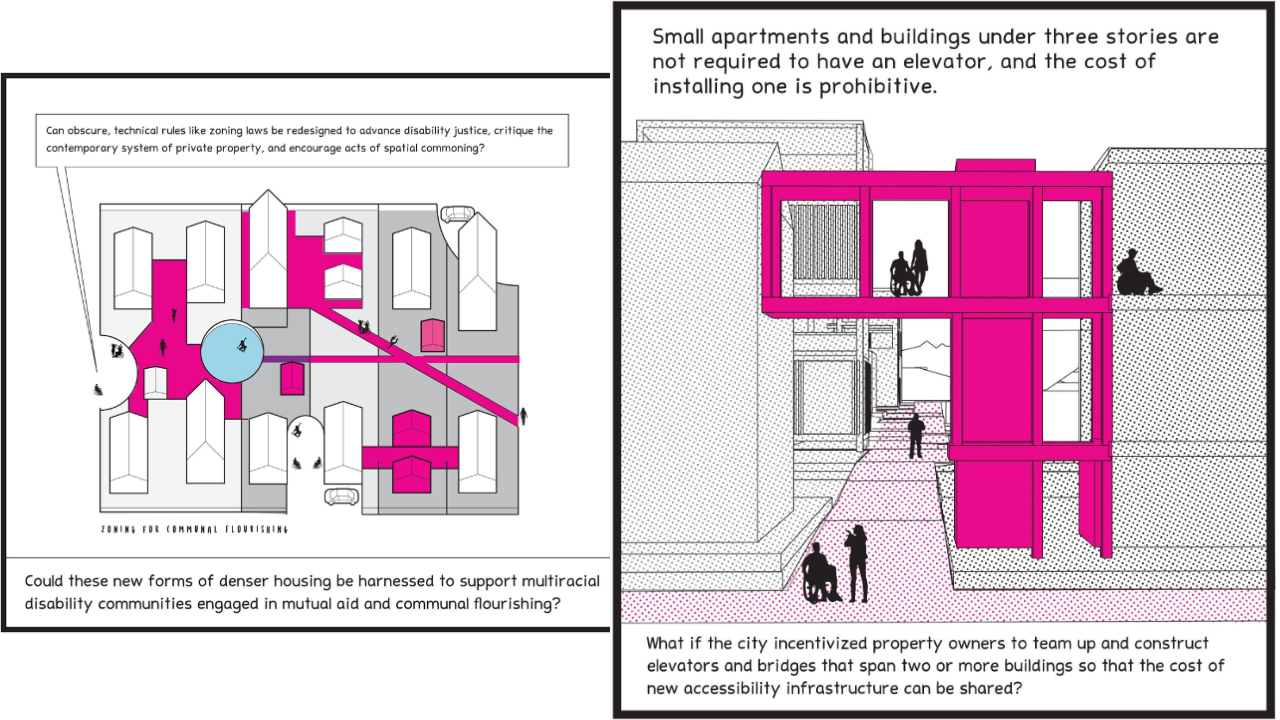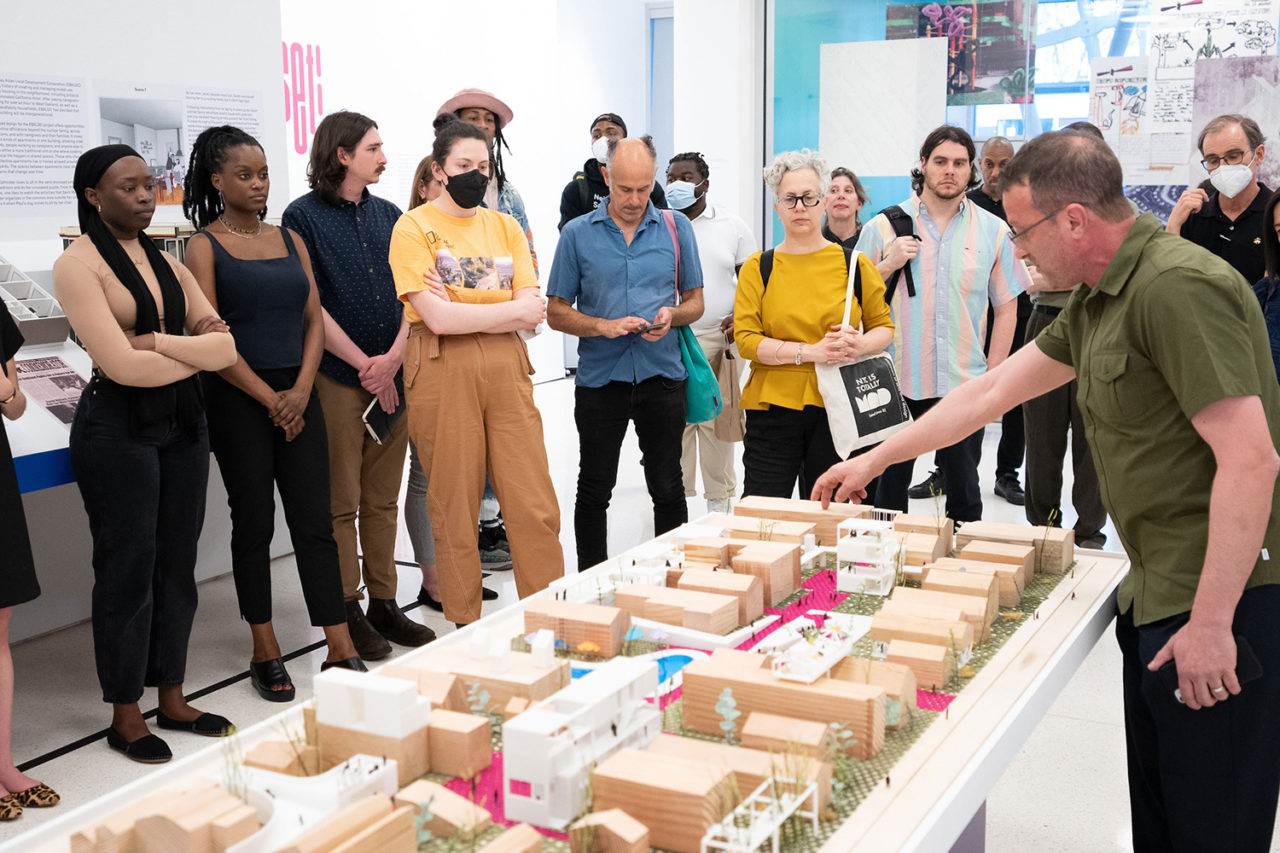 Reset: Towards a New Commons
Hundreds of visitors attended the opening of Reset: Towards a New Commons on April 14, 2022. The exhibition will be available for view through September 3, 2022.
---
Block Party  Project Team
Javier Arbona, University of California, Davis

Irene Cheng, Project co-leader, California College of the Arts and Cheng + Snyder

David Gissen, Project co-leader, Parsons School of Design, The New School

Rod Henmi, FAIA, HKIT

Jerron Herman, Artist and Dancer, New York City

Georgina Kleege, University of California, Berkeley

Chip Lord, University of California, Santa Cruz

Brett Snyder, Project co-leader, AIA, University of California, Davis and Cheng + Snyder
Student Interns
Cody Burchfield, Parsons School of Design

Ariana Contreras, University of California, Davis

Cameron Gillern, University of California, Davis

Lina Kudinar, California College of the Arts

Nicole Kuo, California College of the Arts

Fatema Mostafa, University of California, Davis

Isabella Teran, Parsons School of Design

Genevieve Zanaska, University of California, Davis
​​
Support from
University of California, Davis, Office of Public Scholarship and Engagement

University of California Placemaking Initiative

The New School University

California College of the Arts
Special thanks to
Bonnie Lewkowicz, Ojan Mobedshahi, Yomi Wrong


 
Written by
Brett Snyder, Associate Professor of Design and principal at 

Cheng+Snyder 
Primary Category
Tags