Engaged Scholarship with Soil and Human Communities
A community approach to solving soil and water problems: locally and globally
Soils are a lot like people: diverse, complex, and hard to understand at times. And both depend on their communities. Communities provide us humans with a sense of belonging and are crucial for our adaptation and resilience. And soil is home to the earth's most diverse, biological communities who give soil its "life" and ability to function, according to Kate Scow, professor of soil science and microbial ecology in the College of Agricultural and Environmental Sciences.
A fascination with the mysterious complexity of soil communities beckoned Scow to soil ecology and eventually led to a lifelong relationship with soil. Scow soon realized that the well-being of soils and people is intertwined and one depends on the other.
Her deep interest in communities — both microbial and human — has also enabled Scow and UC Davis students to advance soil science in partnership with farmers and other stakeholders from California to Uganda, Africa.
Where it all comes from
It was while working as an environmental consultant after earning a bachelor's degree in biology that Scow first stumbled onto soil. "I couldn't believe that every day I was walking on the surface of this pulsing ecosystem filled with extraordinarily diverse communities and I was oblivious to it."  
"How could I have been so clueless?" Scow said. "Soil is where life springs from. It's where beings return when life ends to be recycled into nutrients for the next generation. Soil is complex and important, but incredibly mysterious. Getting to know about it sometimes felt like learning secrets. I fell hard when I was first introduced to soil and, the more I learned, the deeper I fell in love. I had found my match."
Studying soils in graduate school at Cornell University, Scow investigated microbial biodegradation of pollutants in soil and ground water. Her research was primarily in the lab, where experiments could be tightly controlled, making it easy to ask questions, rapidly collect data and produce the publications needed to start her career.
After getting a faculty position in soil microbiology at UC Davis, Scow was increasingly tugged to leave the "safety" of the lab for the less controlled and more meaningful environments of contaminated sites and farms.
One project was using microbes to clean up ground water contaminated by fuel additives in the San Fernando Valley. Working with a team of UC Davis researchers and engineers from the private sector, they designed an inexpensive treatment system. It built on discoveries from Scow's lab: harnessing the potential of naturally existing microorganisms in ground water for bioremediation of the pollutant.  
"We essentially collaborated with microbial communities in the groundwater, giving them the oxygen and nutrients they needed to do the work," Scow said. "And the result was we cleaned up a major drinking water supply."
Collaboration with humans was also crucial to the project's success. Engaging with a diverse problem-solving community — including practitioners and policy makers from the public and private sectors — ensured that challenges could be overcome as they came and a solution that worked for the local community could be found.
Going Global
As Scow's career at UC Davis progressed, she became a faculty advisor for UC Davis Engineers Without Borders — an international program that connects engineers with communities around the world to address local problems with sustainable solutions.
Scow and a team of graduate students traveled to Nkokonjeru in Central Uganda. They worked with the rural community on stoves and water treatment using systems and devices designed and tested in California. "It became immediately clear that the solutions we brought were not what the community wanted," Scow noted. "The farmers had their own designs, knowledge and interests; much of remaining trip was spent learning about them."
The same lesson applied to the soil research Scow had set out to do in Uganda. "My Ugandan colleagues wanted me to bring my soil knowledge to the community so I brought a soil test kit to measure something, anything. But I didn't know where to even begin," she said.
Scow knew she had a steep learning curve in understanding local soils and their communities, but an even steeper curve in learning about the human communities farming the soils in Nkokonjeru and surroundings.
Continuing to learn
Returning to Davis, Scow and a group of interested students formed a weekly study group to learn about farmers and soils in Uganda and to strengthen networks with Ugandan researchers and extension specialists. They obtained funds to send students to spend time in Nkokonjeru and to bring a farmer from Uganda to visit Davis.
We asked many questions. "'Who's this research going to be for? What are the farmers' priorities and where can we learn them? How can we make the research inclusive of those often left out, such as women", she recounted. "I knew in my gut that engagement with communities was essential, but I didn't know how. So, I started to learn about participatory research and extension."
Scow then acquired funding through the Horticulture Innovation Lab to partner with these same farmer groups on a topic they wanted to learn about: strengthening production capacity of indigenous leafy greens in concert with improving access to local markets. Teaming up with social scientists from Davis and Uganda and employing participatory research methods was "eye-opening".
In farmer-researcher teams, new management practices for cultivating indigenous greens built upon farmers' existing knowledge. Bringing stakeholders together in the same room led to discovery of unexpected market opportunities — such as seed production for indigenous vegetables — that might have been overlooked.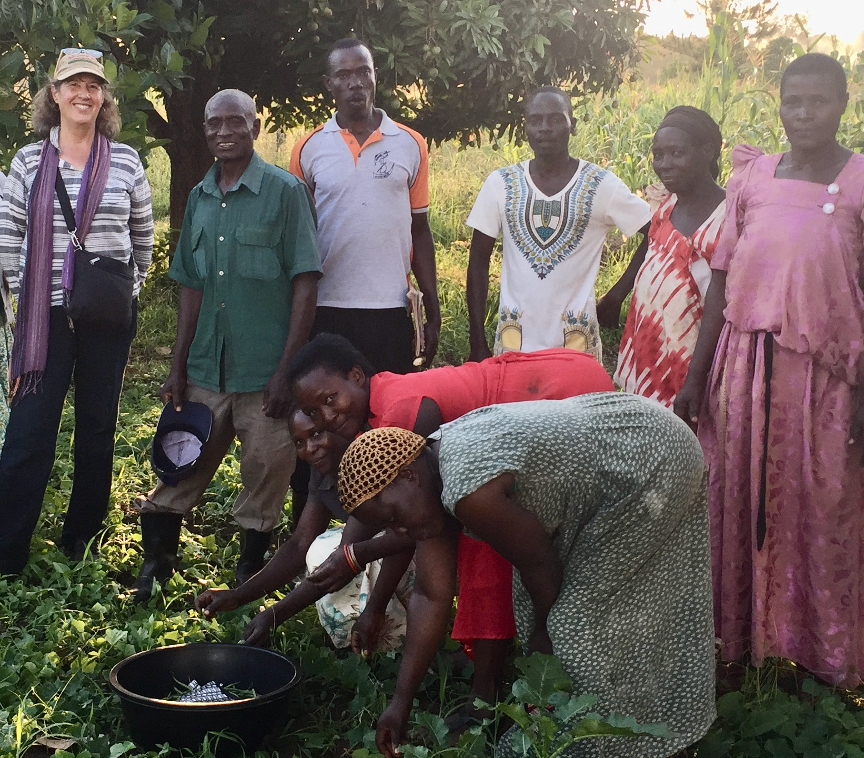 Cultivating women's empowerment
Scow and her Ugandan colleagues started a new project in Eastern Uganda on participatory research with smallholder farmers to improve small-scale irrigation. Scow remarked, "Simply introducing and providing trainings for irrigation technologies without engagement with the community can set up an innovation for failure. Farmers are far from beneficiaries; they are the most crucial research partners." Scow's team supported farmers in selecting, testing and adapting irrigation systems of interest to them and suited foe their soils and farming traditions. "Farmers throughout E. Uganda shared their discoveries with one another in reverse-site visits and NGOs started coming to their farms to learn from their experiences," said Scow.
Especially important, Scow said, was that women farmers were equally involved as leaders and participants throughout the entire project. This time the team included social workers and activists of the Teso Women Development Initiative (TEWDI), a local NGO focused on women's livelihood and empowerment. This ensured that irrigation technologies not only met women's needs but were ones they themselves designed.
As they built out the irrigation systems, the team learned how much women farmers had to navigate socio-cultural dynamics: social hierarchies, infrastructure limitations, economic constraints, and land-rights issues. Together, the farmers came up with a variety of solutions.
To help grow new leadership and capacity in irrigation, Scow's project partnered with agriculture and engineering students from nearby Busitema University – providing opportunities for gender-training and hands-on field experience in the process. "And, not forgetting soil," Scow said, "in participatory soil health workshops, farmers explored how soil and its communities responded to different farm management decisions."
Scow said the Uganda irrigation project has provided everyone on the team the invaluable experience of being in a "community of practice," a space where everyone shares what they know, but more importantly, learns from and about one another.
"It's not just participatory research," she said. "It's research that changes even how the communities — farmers and researchers both — imagine themselves."
---
About UC Davis Public Scholarship and Engagement
Public Scholarship and Engagement (PSE) is building and supporting meaningful relationships between communities and UC Davis scholars that work together to solve today's problems and tomorrow's challenges.
We envision a university unbound that seeks to serve the public, equitably and inclusively, resulting in reciprocal and mutual benefit to California's communities and beyond.
Primary Category
Tags