A Breath of Fresh Air
Q&A with Dean of the College of Engineering Richard Corsi
Dean of the College of Engineering and two-time alumnus, Richard Corsi, M.S. '85, Ph.D.'89, has a decades-long history of work in public scholarship. An expert in air pollution and indoor air quality, Corsi has been engaged in national discussions related to layered risk reduction to reduce transmission of COVID-19 by aerosol particles, including webinars hosted by the National Academies, as well as more than 100 print, television and podcast interviews. 
Early in the pandemic, his efforts focused on lowering the inhalation dose of virus-laden aerosol particles indoors. He led an effort to develop an educational tool for assessing parallel interventions for lowering inhalation dose for aerosols and risk of infection in buildings. His concept of a low-cost and effective do-it-yourself air cleaner to combat virus-laden aerosol particles and wildfire smoke has become known worldwide as the Corsi-Rosenthal Box.
The DIY air filtration system, which is made with over-the-counter air filters, fan and duct tape, has been proven to have more than double the efficacy of HEPA air filters. Since Corsi and his partner, Jim Rosenthal, decided to not patent the design, but rather make it open source and post it on social media, thousands of people of all ages throughout the globe have been making Corsi-Rosenthal Boxes to help purify their indoor air.
Corsi took a moment to sit down with staff at Public Scholarship and Engagement to talk about the Corsi-Rosenthal Box and his thoughts on community-engaged research.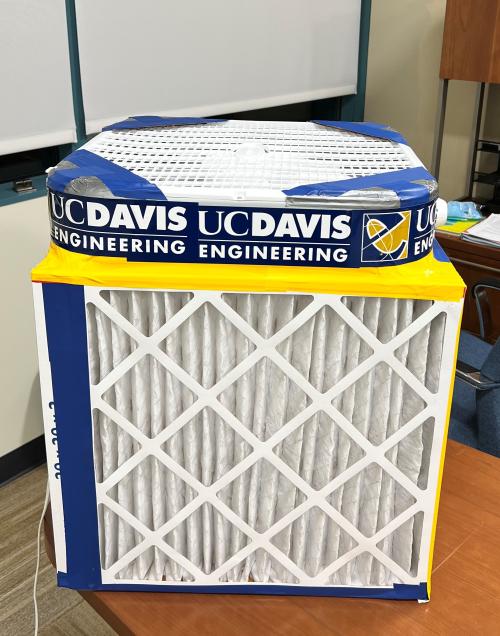 Q: In thinking about how the Corsi-Rosenthal Box came to be, why do you think partnerships between university and non-university scholars are important for successful research?
A: Well, in terms of the Corsi-Rosenthal Box, it likely wouldn't have happened if it weren't for my partnership with a business owner Jim Rosenthal and the public. When I came up with the idea of the Corsi-Rosenthal Box, I actually didn't build one — Jim did. I came up with a question of, how can we build an air cleaner that's effective and also much more reasonable than a $200-300 HEPA air filter. I put the idea out there for a box design using air filters, using a doodle and a Folgers coffee box, and the very next day Jim built one and put it out on social media. Then other people started building it and they were actually the ones to call it the Corsi-Rosenthal Box.  
It's really been on social media that it's taken off. Parents in British Columbia and in Nebraska are building them and then giving each other advice on how they got their school districts to allow them to be used in the classroom. So they are creating a support group for each other. That hasn't been me or any other scholar, it's been them making this happen. It's been inspiring for me to watch that happen. 
And that's the great thing about the Corsi-Rosenthal Box — it's beyond any scholar now; it's now in the hands of the public. I feel like it's been launched and my role is now to be an encourager. I go on social media and encourage them, sending them a direct message. There's a 14-year old in Ontario, Canada who is building Corsi-Rosenthal boxes in his garage and I've contacted him and said "I really want you to apply to our College of Engineering program at UC Davis. This is great, you are already doing engineering work." And there is a fourth grader in Hawaii who has made a video on how to make a Corsi-Rosenthal box and it's so good. It's inspiring. So this is the fun part.
Q: How does community engagement improve research?
A: My philosophy is that university scholars should always strive to work with those in the general public. It has always been important to me and it should be to the entire engineering field.
Anytime we embark on any new kind of research we should be asking the questions, "who will this ultimately benefit" and "does our research contribute to the greater good of society, including those who are underserved," because the people who will ultimately be using the product are not researchers, they are mechanics, technicians and the like.
You can't do research that helps others unless you understand their needs, their constraints and the obstacles they face. And every sector of the public is different. Working with schools in the Rio Grande Valley is different from working with animal shelters, which is different from working farm worker families, and I've worked with all of these groups. You have to understand their needs, but also the nuances of the hurdles and obstacles they face. You, as a researcher, may think you have a great idea but for any number of reasons it may be difficult to adopt that in a community. So you have to work with communities and be equal partners, learning from them as much as they are learning from you.
Q: What does public scholarship mean to you?
A: I think it's a spectrum. It's about engaging with and working with the public. But it's also about working with them in a way that they recognize how much you value what they do and their input. In working with practitioners, I've always said, "We're a bunch of researchers at a university. We're not at the front lines, fixing people's problems. You are the ones doing the work." It's kind of like that with the Corsi-Rosenthal Box. The people who are building these and trying to convince others to be used, that's the public doing it. We try and facilitate, work with and listen to them; but at the end of the day it really does have to be an equal partnership. And hopefully that engagement will add a feeling of fulfillment to the people in academia, so they will be inspired to do that work.
Q: What role will public scholarship have in the College of Engineering?
A: With the building of the Diane Bryant Student Engineering Design Center, I hope that we can provide students — not just at the College of Engineering, but the entire campus and even high school and middle school students in the area—with the opportunity to engage in hands-on learning in engineering. The operative word for me here is "inspire" — how do we use the Diane Bryant Student Engineering Design Center to inspire our current and prospective students, allow them to grow in their confidence and turn their ideas into reality. 
Also, one of the guiding principles for the college's strategic plan is Technologies for the Greater Good. Basically, we want to always be mindful of how we can use our skill sets and what we learn as engineers to help make technology more accessible to those who don't have access to it now, and how to use technology to help society, especially those who have historically been left behind.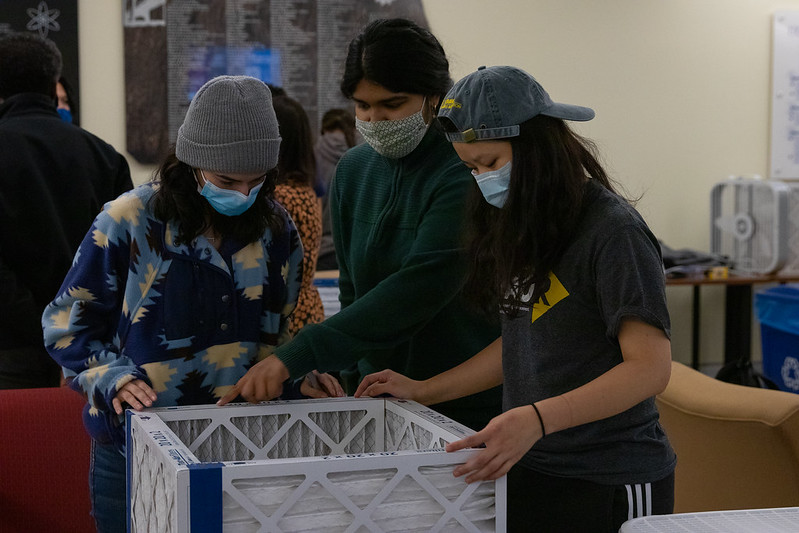 Q: What role do you think community-engaged scholarship should have at universities?
A: In my career I've done a lot of work with public schools — some of it I would classify as research, the other I would classify as service. Unfortunately universities historically haven't valued research related to public service that doesn't involve tons of money coming in. So often research to serve the public good is seen more as service than research. I think that is changing, which is a good thing. 
However, there is still concern among faculty who are interested in community-engaged work that, if they go down this road, it won't be valued when it comes to the promotion process. They wonder how we, as leaders in academia, are going to change that. That is why it is part of our strategic research vision for the College of Engineering. So when somebody goes up for promotion, they can point to that, and say the work that I'm doing is consistent with the strategic vision of the college.
Q: What would you say to others to encourage them to get involved in community-engaged research? 
A: I think many times we, as academic scholars, get caught up in how much money we bring in or papers published in prestigious journals, and we are not taking the opportunity to feel the fulfillment of doing good for others. I remember in an interview I had with NPR, the reporter asked me where the Corsi-Rosenthal Box ranked in importance in my career. And you know, when I think about the money I've brought in for research, I think it's somewhere around $14 million, and the papers that have been published, I don't think anything I've done in my career has helped society more than the Corsi-Rosenthal Box. And it was something that cost nothing and was done late one night doodling on a piece of paper. And when I look at all the good that's it's doing, it just feels really good.
Learn How to Build a Corsi-Rosenthal Box
 Dean Richard L. Corsi explains how to build the simple air filter. Watch the step by step instructions tutorial to build your own.
Primary Category
Tags