Social Justice in Health Care
Moving nursing education from classroom to community
Jann Murray-García is more than just a pediatrician and assistant health sciences clinical professor at the Betty Irene Moore School of Nursing at UC Davis. She is an activist physician.
As such, Murray-García knows health inequities, policy disparities and detriments to living well in marginalized communities are best addressed in the environments where they occur, when students leave the classroom and get out in the field. For that reason, she has been working for many years with community partners and her nursing students to address health inequality in California.
Community engagement: a family tradition
Murray-García says that community work is in her blood and her family lore.
She is the granddaughter of South Carolina sharecroppers on her father's side, and on her mother's side, her grandfather was an African Methodist Episcopal pastor, president of the NAACP in Charleston, South Carolina, and a professor of Greek, Hebrew and theology at Allen University. Murray-García was raised on tales about her grandparents:
"I always heard stories of my family members, my ancestors, doing their jobs. That they were professionally trained to do, but also taking those skills into the community beyond their job descriptions."
Many of these skills were mobilized to address racial inequality and Murray-García sees herself continuing in that tradition.   
"My grandfather would tell my mom that in all his work he wasn't working for himself, he was working for his grandchildren…. And every time I get scared, every time I want to pull back, every time I think it's too hard, I think about him."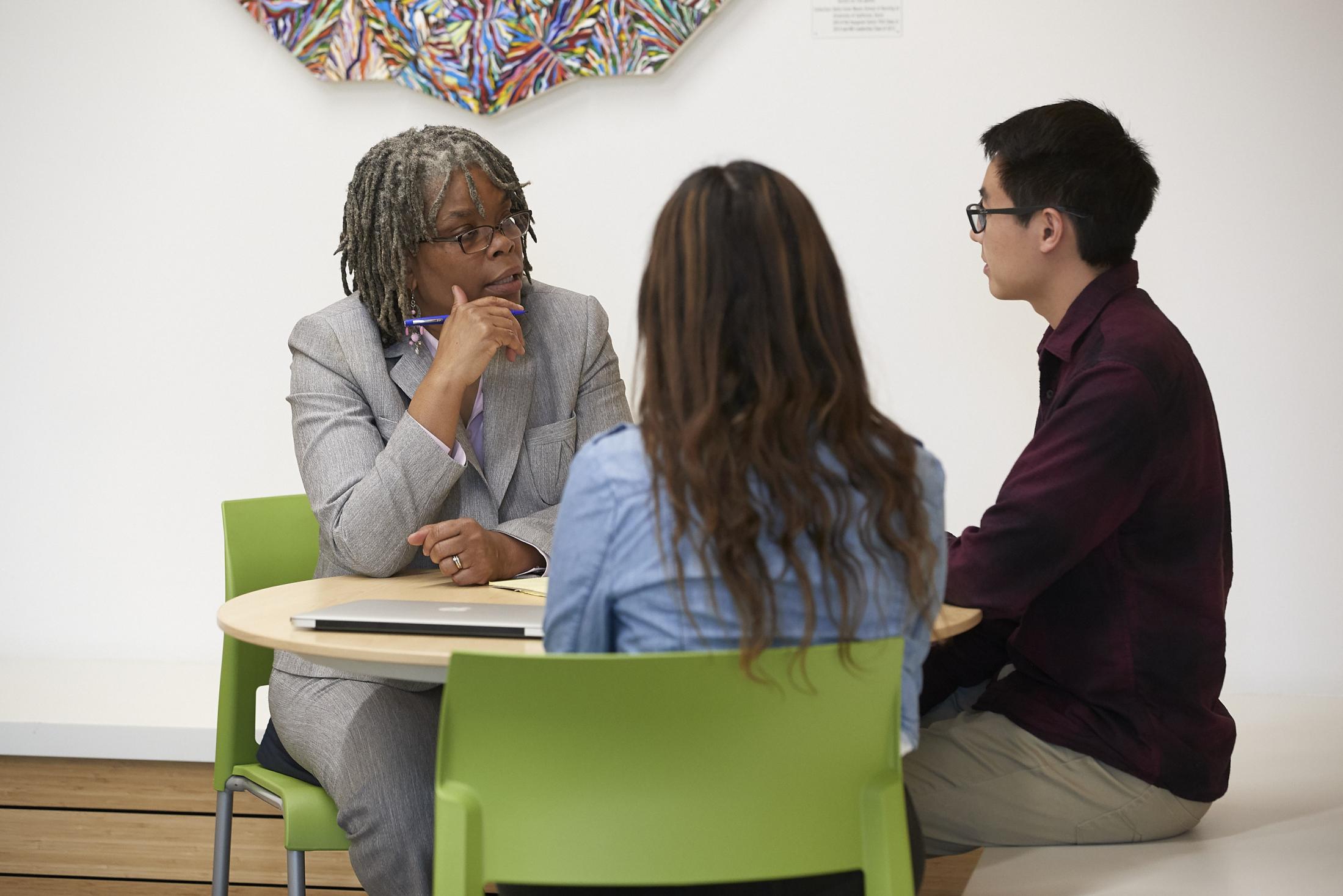 Mentor inspired path to community engagement
While her family's activism influenced her upbringing, medicine has always inspired Murray-García. She knew she wanted to be a doctor at five years old.
Murray-García majored in biochemistry and nutrition at Stanford University, obtained a medical degree from UC San Francisco and received a master's degree in public health at UC Berkeley. But it was during her residency at Children's Hospital Oakland where Murray-García found her true passion.
"I walked in the door and all the chairs were for kids and toddlers. I remember thinking, 'This is it,'" she recalled. "When I discovered pediatrics, that was the end of the story."
Murray-García also worked on a research project with her mentor, the late Merton Bernfield, of Stanford University's Department of Pediatrics, that helped her discover how her love of pediatric medicine and passion for social justice and activism could blend together in a career.
During the course of her research project, she found black infants were twice as likely to have low birth weight as white infants. In Murray-García's mind, inadequate prenatal and perinatal care was an inequity that needed to change. Bernfield recognized her activist passion and guided her towards a career in public health.
"People were my interest – and communities – and how I could leverage a career in medicine and health care to do social justice," said Murray-García who came to the School of Nursing in 2010 as a founding faculty member.
Community-focused health projects
Inspired by her passion for community work and education, Murray-García began teaching a unique course known as Community Connections. The course takes place both inside and outside the classroom. This approach — which is deeply rooted in community partnerships — is how students in the master's-degree leadership program where they learn how to think outside the box and adapt their health care knowledge in new ways.
Faculty members partner students with community organizations of varying sizes; students then learn about the organization's mission and vision, build relationships with their staff and stakeholders, listen to partners' input, help identify problems and areas of concern and work together to generate solutions.
Over the years, Murray-García's students have contributed to dozens of local and regional projects, and no two are alike.
Murray-García and her nursing students have partnered with the Sacramento Food Bank and Family Services for the past eight years. In one project, students worked with Food Bank staff to develop an evaluation tool for determining the benefits and effectiveness of the classes offered by the Sacramento Food Bank (including parent education, technology, English as a second language and more.) The tool has helped the nonprofit both streamline its business operations and determine the most useful program offerings for a growing refugee and homeless populations.
Working with the Sacramento City Unified School District, Murray-García's registered nurses re-opened a school-based clinic at Hiram W. Johnson High School, now operated by WellSpace Health. In Amador County, they worked on a public health campaign targeted at improving low immunization rates and a disaster preparedness workshop for older adults. When Mutual Housing of California wanted to establish an LGBTQ-friendly residence for seniors, Murray-García's students stepped in to do the research and collect baseline data—work for which the staff didn't have time. And when Wellspring Women's Center wanted to tackle hygiene challenges for Sacramento women experiencing homelessness, students found possible solutions and presented them to Mayor Darrell Steinberg.
"It was an innovative way to get us away from the white boards and get out to see the beauty of these communities," said Murray-García.

Dignity for Homeless Women: UC Davis Nursing Students Connect with Community
On any given night, nearly 2,700 individuals experience homelessness in Sacramento County. Beyond the data lie hundreds of women whose basic needs of hygiene go unmet. A team of master's-degree leadership students at the Betty Irene Moore School of Nursing at UC Davis shine light on the problem through coursework that also changes their perspectives on nursing.
Learning with and from the community
The most important aspect of community engagement that Murray-García says she and her students have learned is cultural humility, an orientation to lifelong learning which recognizes community knowledge and experience. Murray-García's direct engagement with these populations over the years has allowed everyone to become partners in change.
"Transforming communities has to do with building relationships so the capacity of community members without power can be a channel to power and technical expertise," she said. "That takes hard work, but it's worth it."
---
About UC Davis Public Scholarship and Engagement
Public Scholarship and Engagement (PSE) is fostering a culture of engagement at UC Davis that increases the university's impact through mutually-beneficial relationships that have local, regional, statewide, and global reach. 
We envision UC Davis research, teaching and learning that serves society and makes a positive difference in the world.
Primary Category
Tags