A flood zone. A blizzard. A 30-foot deep abandoned mineshaft.
Veterinary leader takes public scholarship to unexpected places
A flood zone. A blizzard. A 30-foot deep abandoned mineshaft. These are the places where John Madigan, BS, DVM, MS, does his research and teaching.
The UC Davis professor of medicine and epidemiology in the School of Veterinary Medicine, who is internationally known for his work with newborn foals, has a habit of going where others wouldn't dare, often traveling in a helicopter; but it is on these adventures, to help rescue animals in distress or help a foal recover from maladjusted syndrome, that Madigan says his work truly comes alive.
"When you get the call, you have to say yes," said Madigan, who will often bring students along for the hands-on learning experience.
A pioneer in veterinary emergency response
Madigan joined UC Davis in 1983 at time when there was no disaster or emergency response veterinary unit in Northern California, nor was there suitable equipment, he said, to aid large animals.
Having just left his private practice with the goal of making a difference through higher education, he was determined to help fill that need. He was instrumental in the development of the UC Davis Anderson Sling and the UC Davis Large Animal Lift, both of which are used widely in emergency medicine and large animal rescue to this day.
Madigan's work gained visibility in the early 1990s when he used the sling to rescue five mules and a horse during a blizzard high in the Sierras. The sling was later used to rescue a family's beloved pet—a 1, 200-pound Brahman cow named Molly—out of a 30-foot mineshaft, unharmed. The sling also has been used in surgeries and caring for famed racehorses, such as Barbaro.
Soon Madigan began traveling around the country where ever disaster struck, riding in helicopters alongside U.S. Navy or National Guard service members to airlift animals out of danger. His work garnered media attention with such outlets as The CBS Evening News with Dan Rather, Rescue 9-1-1, and Animal Planet.
The Department of Homeland Security sought Madigan out so he could create a training program for managing animal welfare in emergencies, a model which is now used nationally and internationally. Additionally, Madigan established the International Animal Welfare Training Institute and the UC Davis Veterinary Emergency Response Team. He has recently created a simplified rescue system that can be carried in a duffle bag and training has begun with the UC Davis Fire Department.
"We're a public institution and we need to be doing the right things to help the public when we can," said Madigan, who recently helped rescue animals affected by California's wildfires. "You should be showing that the university cares and is doing something when there's a need."
New clues to autism through foals
Another area where Madigan is helping the public is through his discovery of a possible, unexpected connection between foals and autism spectrum disorder. Madigan has partnered with health care professionals to explore how hormone changes that occur in newborn foals might give us clues to understanding childhood autism in humans.
The idea originated from another one of Madigan's inventions which is a special squeezing harness that helps foals recover from Equine Neonatal Maladjustment, a condition where the foal is subdued and won't nurse or bond with its mother—similar traits to someone with autism. If left unresolved, Equine Neonatal Maladjustment can be fatal to the foal.
Madigan's harness, when used to squeeze the foal, mimics the pressures of the birth canal and causes the foal's sedative neurosteroids to decrease. The foal sleeps, then wakes up able to fully interact with its mother and environment.
Observing this behavior, Madigan and his team of researchers had a novel idea.
"We wondered whether there's any connection to autism because of the behavioral overlaps of the foals, where they don't recognize they're not integrating in the environment," Madigan said. "It's a different idea  to the very difficult problem of autism."

Newborn Horse Syndrome Suggests Links to Childhood Autism
UC Davis equine veterinarians, tracking the cause of a set of bizarre and sometimes lethal behaviors in newborn horses, suspect the disorder is caused by the foals' failure to fully transition from the womb to the conscious world. They've discovered a simple treatment for the syndrome and are now working with colleagues in human medicine to explore possible links to autism in children.
His research team identified eight different hormones in foals that contribute to maladaptive syndrome at birth. A study done by European researchers in children with autism tested saliva from a group of 10 to 12-year-old subjects reported elevations in four of the eight hormones found in the maladjusted foal. Madigan hopes the foal work stimulates exploring possible connections in autism with these hormones.
The Equine and Comparative Neurology Research Group was established, consisting of veterinarians, physicians, epidemiologists and basic-science researchers, who are continuing to explore this theory thanks to a grant from the Bill & Melinda Gates Foundation.
"We're very fortunate at UC Davis to have the One Health approach of sharing of information and exploring new ideas learned in one species that could apply to another," Madigan said. "The idea that there's something that you can learn from an animal, and in this case a newborn foal— maybe this animal is going to teach us something about ourselves."
Successful scholarship is public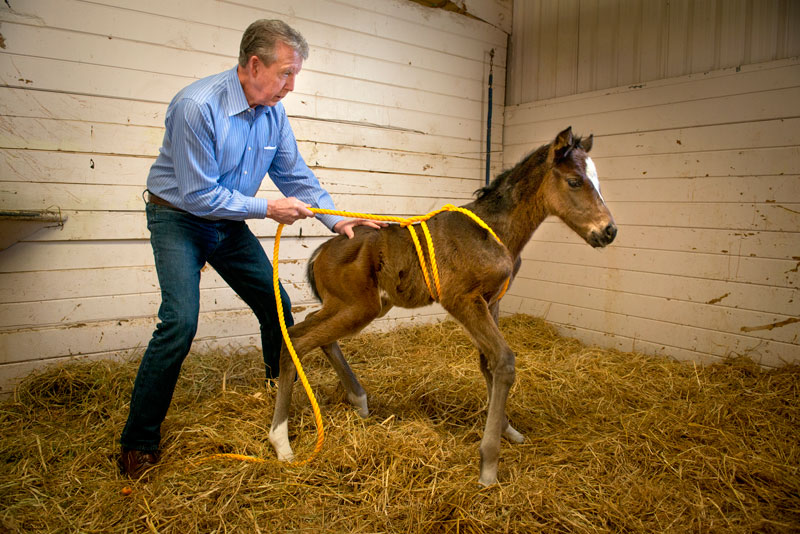 Currently, Madigan's work focuses on training first responders and veterinary students in disaster and emergency response involving animals. Additionally, leadership at the School of Veterinary Medicine are leading an effort to investigate establishing better networks for disaster response based on experiences and learning from Madigan's field responses.
Whether he's aiding animals in disasters, helping a new foal thrive or teaching students the art of emergency vet work in the field, Madigan said his life's work is founded on one guiding principle—helping the public.
"Get involved with something you believe in," he said. "We've been asked to help. We just let people know we're going to do the right thing. That is all you have to do—the right thing."
---
About UC Davis Public Scholarship and Engagement
Public Scholarship and Engagement (PSE) is fostering a culture of engagement at UC Davis that increases the university's impact through mutually-beneficial relationships that have local, regional, statewide, and global reach. 
We envision UC Davis research, teaching and learning that serves society and makes a positive difference in the world.
Primary Category
Tags