Bringing justice closer to home
Advocating for equal access to justice in rural communities 
By Sarah Colwell
Years of professional experience and her personal upbringing make UC Davis School of Law professor Lisa Pruitt acutely aware of one truth—systems of government and justice are often out of reach for rural populations.
That's why Pruitt drives up and down California; to partner with people in rural communities, local government, law enforcement and the court system to advocate for those who experience unequal access to legal services because of where they live.
"We are trying to solve a societal problem, not just a legal problem," Pruitt said. "Because if people don't have meaningful access to the court or legal advice, then the law functions unevenly."
Small town, big world
Pruitt was born and raised in an impoverished, rural Arkansas county, population 7,000. From that small-town experience, Pruitt went on to have a successful career in international law for nearly 10 years. During her time as a software industry lawyer, Pruitt managed Microsoft's litigation in southern Europe and sub-Saharan Africa for several years.
While working with the International Criminal Tribunal for Rwanda to investigate and prosecute war crimes committed during the 1994 genocide, she had a moment of profound realization. Despite being on an entirely different continent, the work reminded Pruitt in many ways of her rural lifestyle growing up in Arkansas, specifically the lack of access to justice. She recognized she possessed special insight into the distinct needs and challenges of people in rural communities, and that the current justice system was woefully inadequate in serving that demographic.
"The law that I had been taught and practiced was extremely urban-normative and urban-centric," Pruitt said. "There are many ways law and legal petition do not account for rural differences and do not understand rural populations."
In 1999 she joined the faculty at UC Davis, intent on being a champion for overlooked rural populations. Since then, she has volunteered on boards and built partnerships with government agencies and local communities to bring the rural perspective into legal discussions at a state level.
Shortages in rural communities and the frontier mentality
In 2016, Pruitt was appointed by the State Bar of California to serve on the California Commission on Access to Justice. Now, as co-chair on its Rural Task Force, she and her team are writing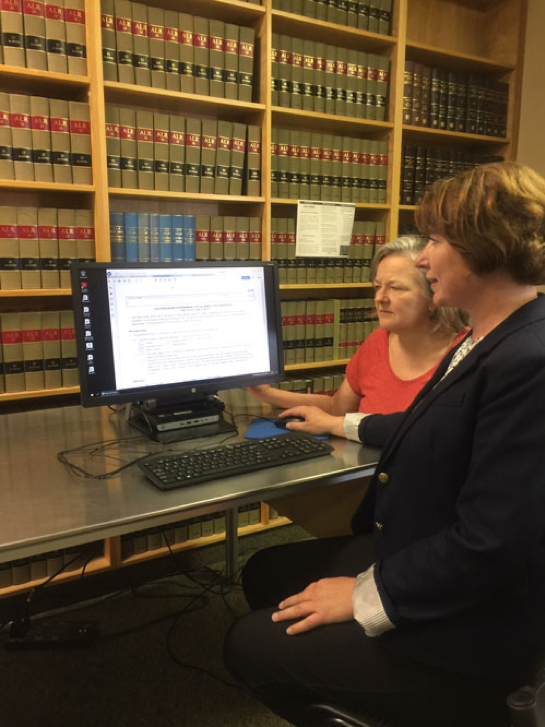 a series of policy briefs to raise awareness about access issues, such as the shortage of private practice lawyers in rural areas. They're creating a map to mark every lawyer practicing in California, illustrating the density of lawyers in urban areas, and the corresponding dearth in rural communities.
One example of this disparity—there are only eight lawyers in all of Sierra County, most of whom work in government which makes them unavailable for private clients. Most residents must travel to another county to find a lawyer and for those with limited mobility or economic constraints, that's not an option. Pruitt is raising awareness of this socio-spatial inequality, how the interaction between built infrastructure and society can result in unequal amounts of resources and services available depending on area or location, especially for rural communities.
Inaccessibility of resources and services leads to a "frontier mentality" among rural residents, she said. People perceive they must deal with criminal problems on their own for a variety of reasons: police officers being too far away to respond quickly, having too few officers to respond at all, or having close personal relationships between the officer and those involved. As a result, according to Pruitt, rural residents like those in the would-be State of Jefferson report crimes at a far lower percentage than urban residents.
"The sheer distance shapes people's expectations of the law and therefore their willingness to trust it and engage it," she said. "It just fosters a different attitude and posture toward the state, the law, and law enforcement."
Justice needed in the wake of disasters
Rural communities also can be disproportionately impacted by disasters such as California's recent slew of wildfires that destroyed millions of acres, displaced thousands, killed dozens of people, and wiped out towns. Residents may become victims of price gouging, or landlords who try to take advantage of tenants by demanding they pay extra money for clean-up and other fees, under threat of eviction. The residents need legal advice on how to navigate FEMA applications and benefits. Pruitt is helping the task force raise awareness of these issues, as well.
To develop solutions to these and other problems, Pruitt and her task force engage in participatory action research. They talk to stakeholders in rural communities to learn what their needs are, and what their ideas are for solving them.
"When you're seeking to do good, to help a particular community, you leave behind your own ideas of what it means to help that community," Pruitt said. "You need to facilitate what they want to achieve instead of going in with sort of an overriding academic objective of what you think you should be achieving." She added, "It's critical to have the voices of people who represent civil society in the room to try and solve these problems."
On one such project, called Practicum in Rural Community Advocacy, Pruitt and a team of UC Davis students visited Plumas County to work with lawyers and local government to identify and educate the population eligible for the benefits under the early expansion of the Affordable Care Act.
It's work she isn't paid for that takes a lot of time, but it helps ensure her work in academia can be more broadly relevant and address the experiences of rural communities.
"It's where service and scholarship come together," she said. "This is a way I can use my expertise to hopefully make a difference in the public square. I'd like to see rural America have more of what they need to thrive."
---
About UC Davis Public Scholarship and Engagement
Public Scholarship and Engagement (PSE) is fostering a culture of engagement at UC Davis that increases the university's impact through mutually-beneficial relationships that have local, regional, statewide, and global reach. 
We envision UC Davis research, teaching and learning that serves society and makes a positive difference in the world.
Primary Category
Tags