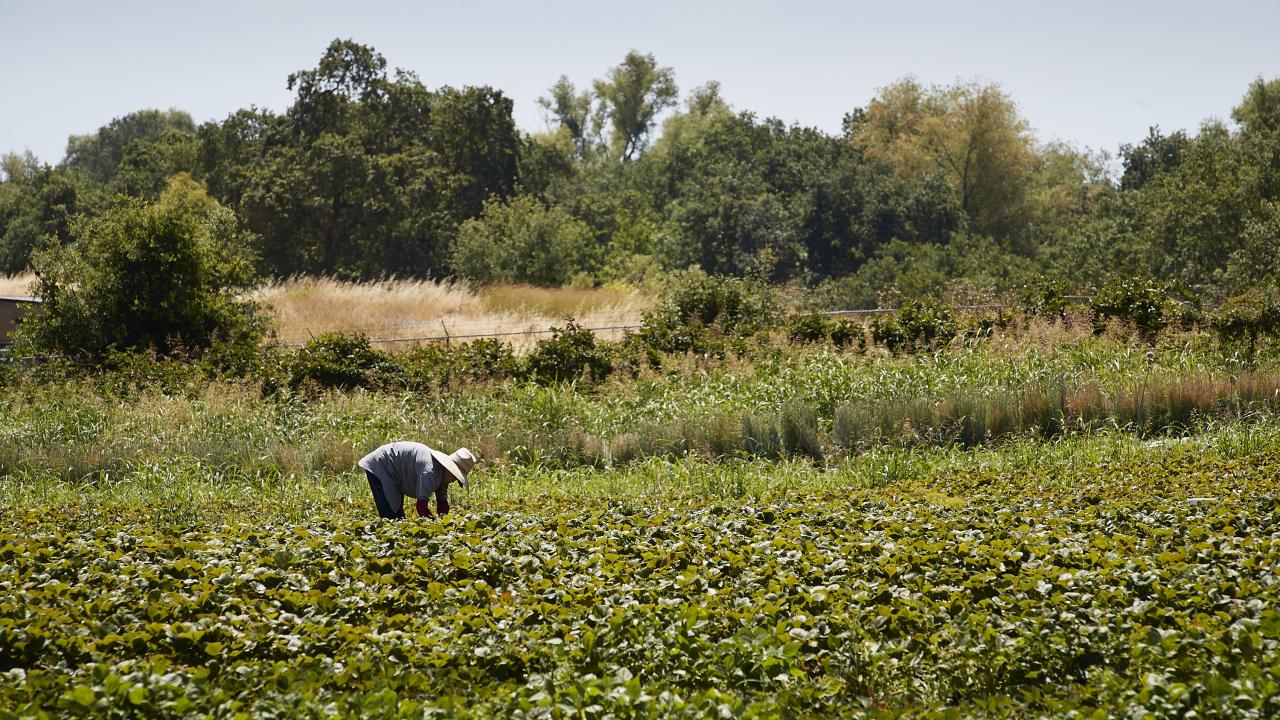 Bringing an outside farming community into the UC Davis family
By Sarah Colwell 
A two-lane county road leaves Davis, cuts through open fields and orchards, passes industrial warehouses and bends over the Sacramento River into Knights Landing, California. Signs advertising tomatoes, watermelon and garlic are clustered next to the reflective green highway sign that reads "Knights Landing. Pop 995. Elev. 48."
Located about 20 miles from UC Davis, the unincorporated agricultural community of Knights Landing feels a world away from the nationally ranked university; yet a bourgeoning partnership between the two communities is starting to bridge that gap.
Colorful murals, community gardens, new health clinics and, most importantly, the exchange of smiles and warm embraces — all these things show the positive effects of the partnership between the residents of Knights Landing and UC Davis faculty, staff and students.
Still, the problems that pervade the Knights Landing community—from deplorable housing conditions to food insecurity to educational deficits—are constant reminders that these efforts, while important, are only scratching the surface of what is needed.
"To me Knights Landing represents the community that is like many other communities in the Central Valley," say Alfonso Aranda, a Ph.D. student in Environmental Health Geography at UC Davis who helped found the Knights Landing Environmental Health Project as a community-based participatory research project. 
"It is characterized by institutional racism, industrial agriculture, patterns of transnational migration, and environmental exposures and lack of access to safe drinking water. Despite the amount of wealth that is produced in those areas, it's still relatively poor. In the academic literature it's considered the other part of California."
About Knights Landing
Located in Yolo county, Knights Landing is a half-square-mile town surrounded by thousands of acres of farmland bisected by Highway 113. Once a meeting place for Native Americans, it was founded in 1849 by a Maryland physician and served as a steamboat and ferry landing before becoming an agricultural community.
According to a recent U.S. Census, present-day residents of Knights Landing are predominantly Hispanic or Latino, have a high school education or less and 16 percent live below the poverty level. More than 40 percent of Knights Landing residents work agricultural industry making it the largest employment sector; an estimated 20,500 Mexican migrant and seasonal farm workers and their families live in Knights Landing and the surrounding areas in Yolo County.
Although the majority of its citizens work in the agricultural industry, the town itself is a food desert. There is no grocery story in Knights Landing. There is one Mexican restaurant and three, gas-station-style markets that sell everything from food to clothes to household items. The town also has one charter school, a library, a community center and three churches. There is no middle school or high school in Knights Landing.
There are about 300 homes in town; many cannot afford to buy a home since the median household income is well below the price of a single family home. Farmworkers, live in one of two housing areas—Las Tijeras, "the scissors," or Wayside.
Las Tijeras
Las Tijeras is a triangular piece of land wedged between the merging of highways 113 and 102 with a hodgepodge of mobile homes squeezed into it. Some mobile homes have brightly colored potted flowers out front, others have couches with faded fabric, wooden pallets, plastic crates, crumpled clothing, coffee cans scattered around the yard. Chickens peck at the earth; the intermittent roar of speeding cars is the only sound.
Two trailers have signs that read "Warning. Uninhabitable Residence. Do not enter." One trailer is a pile of twisted metal and splintered wood—a few weeks earlier a drunk driver allegedly missed the bend in highway and drove straight into a mobile home killing three people while they were sleeping, including a 10-year-old boy named Angel.
Wayside
A dust-colored motel sits behind a stoplight-colored market. Two older, leathered-skinned Hispanic men sit under a giant Sycamore tree. Their eyes watch all who enter this housing unit where migrant farmworkers live. UC Davis Associate Professor of Chicano/a Studies Natalia Deeb-Sossa's white sedan lurches forward slowly as the road turns from pavement to gravel and dirt.
Deeb-Sossa parks the car outside one of the motel doorways. A two-by-four props up a cooling unit that precariously juts out from a motel window with a cracked pane. The door is ajar revealing a bare, queen-sized mattress that fills up most of the room's interior. Next door, above a boarded window, hangs a string of Christmas lights and a sign that reads "Life, liberty, and the pursuit of happiness."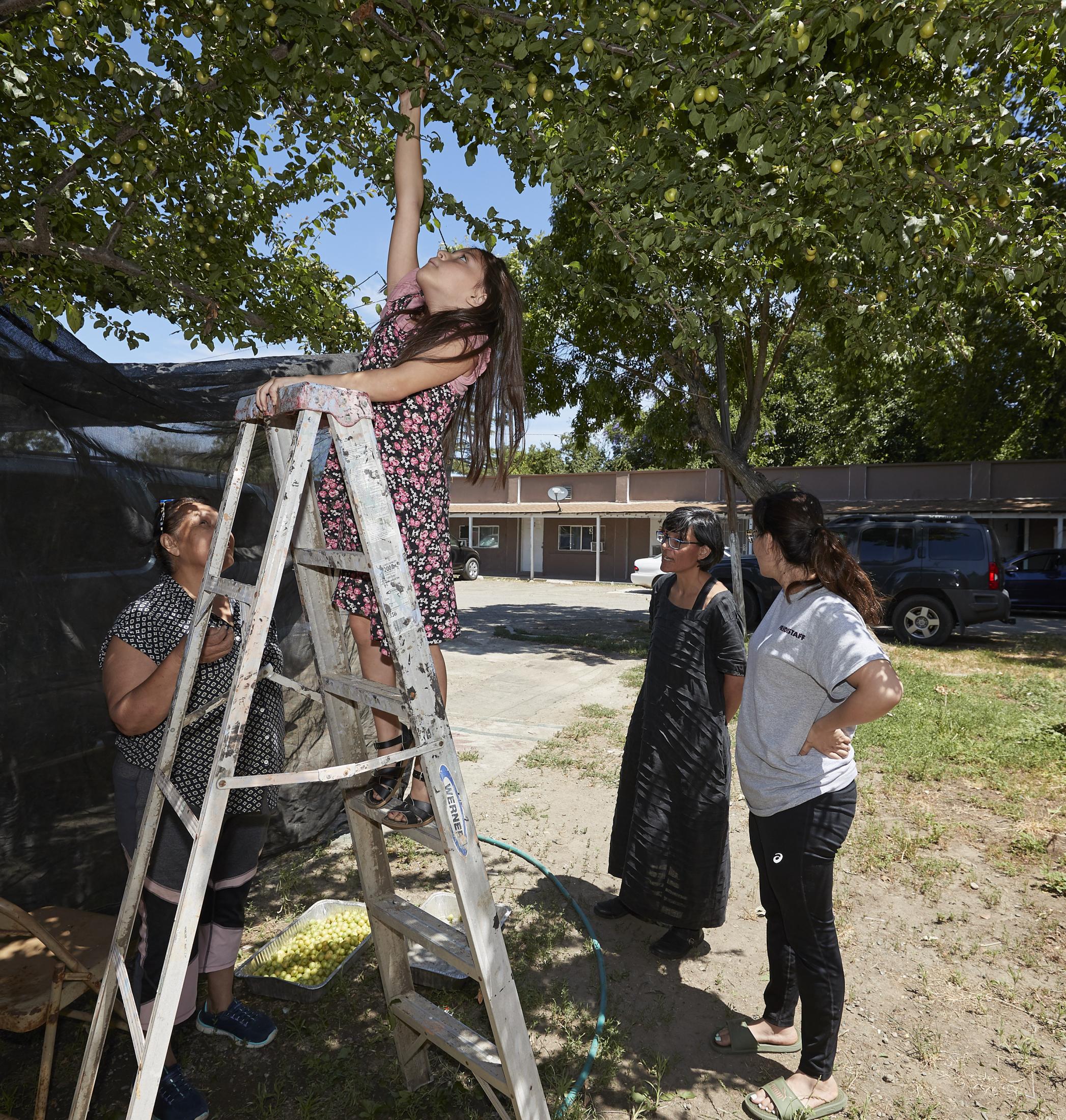 A middle-age Hispanic woman named Carmen approaches the car and gives Deeb-Sossa a warm embrace. In Spanish, Carmen proceeds to thank Deeb-Sossa for talking to a financial aid counselor at Sacramento State University on her son's behalf.
"Bueno, tengo que trabajar al mercado," the woman said with a smile as she walks away. "Es la vida glamorosa." (Translation: "Well, I have to go work in the market. It's the glamorous life.")
Adjacent to the motel, three generations of women stand around a plum tree growing amid a row of mobile homes. A young girl ascends an old metal ladder and drops the unripe fruit into a metal pan her grandmother is holding. Behind the tree, the noses of three barking dogs poke through a waist-high fence made of scrap wood and plastic.
Jessica, the middle-aged woman in the group, grew up in Las Tijeras but moved as a teen to the mobile home in Wayside where her mother still lives today. Currently a resident of Woodland, she comes to Knights Landing to visit her mother and says she has fond memories of playing in the Sacramento River and surrounding fields.
"I loved the freedom I had to explore as a kid," she said. "That was one of the best things about growing up in Knights Landing."
Of all the things that she wants for her hometown, she thinks first of the children.
"I wish there was a park for kids to play at that had a drinking fountain," she said.
For the youth
A mutual concern for the youth of Knights Landing sparked the relationship between UC Davis and members of the community.
Deeb-Sossa, an activist scholar who investigates ways in which research can promote social change, became connected to the Knights Landing community through her involvement with the Davis Migrant Family Housing Center where she hosted a photography class for the children of migrant farm workers.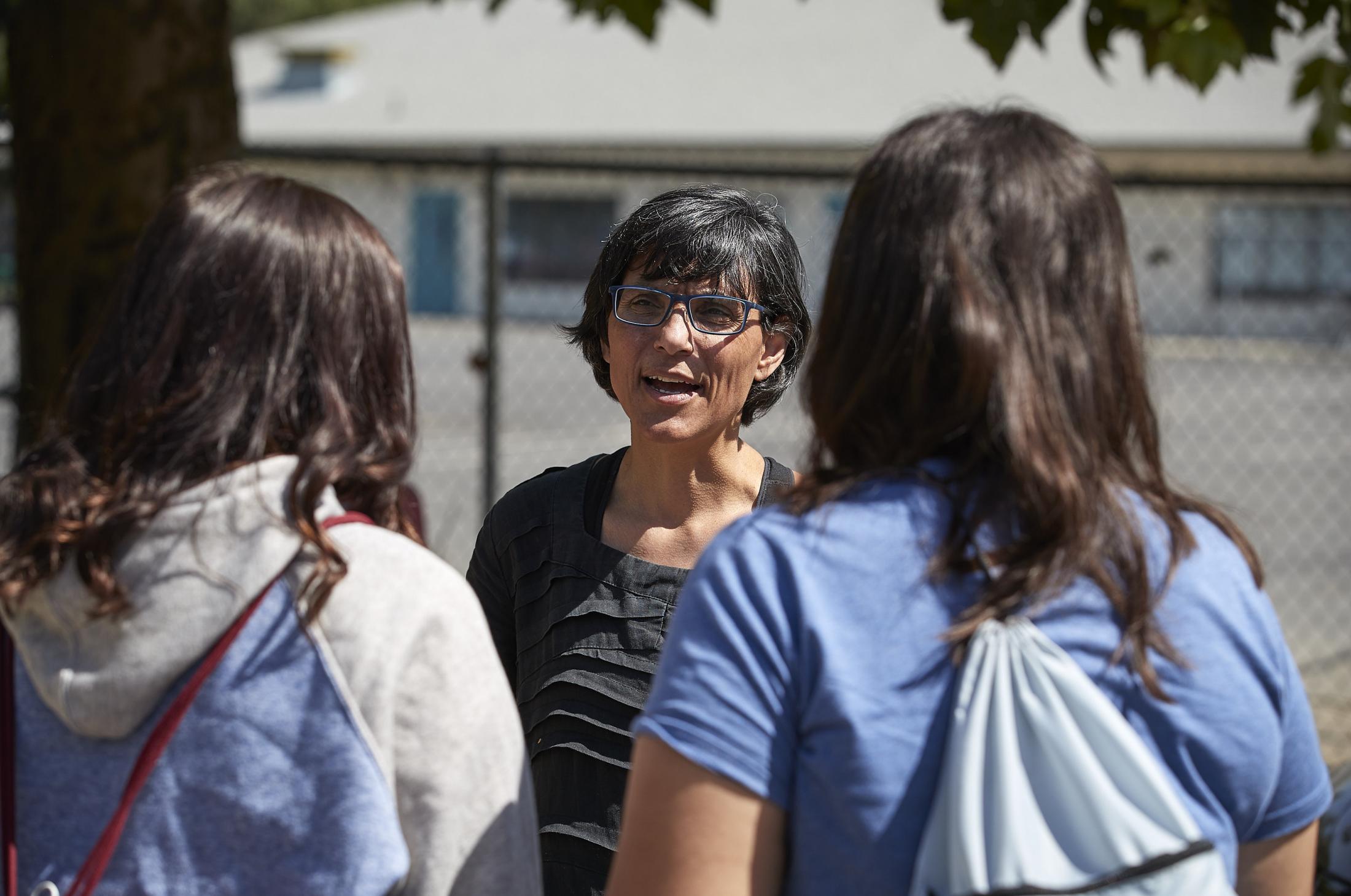 "I really tried to have the children explore through the non-threatening way of photography what their daily experiences are like, what their mental health needs are, and how they experience the stress of their parents being farm workers," Deeb-Sossa said.
Their photographs were showcased at an exhibit, allowing the broader Yolo county community to witness the challenges these children were battling, beginning at very young ages—anxiety, depression, and stress because of frequent seasonal moves as well as the environmental and physical hazards their parents were enduring.
Through the exhibit, the community of Knights Landing found an ally in Deeb-Sossa. Soon after, community organizer Juanita Ontiveros contacted Deeb-Sossa to ask for help with another pressing issue facing the children of Knights Landing —access to education. Grafton Elementary School, the only public elementary school in town which 98 percent of the farmworker's children attended, was scheduled to close. The Woodland Joint Unified School District notified the community that the school would be closing because of a lack of funding during the 2008-2009 recession.
Deeb-Sossa helped a group of concerned parents organize and present their case at public forums. She empowered them to share why the school was so important to the community. Despite their efforts, the school closed June 23, 2009.
"That was very hard for the community," Deeb-Sossa said, "but one of the things the community learned was they had rights, that they could come together."
After the school closed, the district wanted to send the children to a school in Woodland, a 20-plus-minute drive away. The parents of Knights Landing, however, wanted to send their children to Robbins Elementary School which, although part of Sutter County, was only five miles up the road. The parents won their battle to send their kids to Robbins and secured busses to take them there.
"They learned what their educational rights were and to advocate for their children" Deeb-Sossa. "And that was huge."
This is part one of a two-part story. 
In Part Two, a newly empowered group of women from Knights Landing leverage their growing relationship with UC Davis to advocate for greater access to healthcare and more.
Read part two.
---
About UC Davis Public Scholarship and Engagement
Public Scholarship and Engagement (PSE) is fostering a culture of engagement at UC Davis that increases the university's impact through mutually-beneficial relationships that have local, regional, statewide, and global reach. 
We envision UC Davis research, teaching and learning that serves society and makes a positive difference in the world.
Category
Tags