Partnerships Lead to Change
This is part two of a two-part story. 
If you haven't yet, 
read part one.



UC Davis groups work with local citizens to improve quality of life 
By Sarah Colwell 
After an empowering experience advocating for their children's access to education, a group of predominantly Spanish-speaking women in Knights Landing — the wives and mothers of farmworkers — surfaced as leaders to form Grupo de Mujeres.
"'What's next,'" Professor Natalia Deeb-Sossa from the Department of Chinaca/o Studies at UC Davis recalls the question she posed to Grupo de Mujeres, after they lost the fight for Grafton Elementary. "'What's the next thing that is important to you that we need to fight for?'"
Grupo de Mujeres didn't hesitate answering — consistent access to health care was a pressing need for their community. The nearest hospital to Knights Landing is 20-miles away; a free mobile health clinic comes to the community once or twice a year, but residents say that's simply not enough.
"The community members tell me, 'Yes, people come with the clinic; but they usually just tell us we are unhealthy or have problems and scare us and then leave. Then, there is no support for us to get better,'" Deeb-Sossa said.
There are myriad challenges that migrant farmworkers face when seeking health care: lack of insurance, inaccessible clinics, language barriers, difficulty traveling to clinics during office hours, lack of continuity of care and fear of deportation.
Knights Landing One Health Center
Access to health care is all the more important considering the majority of the town works in agriculture. According to the National Ag Safety Database and the U.S. Department of Labor farmworkers are exposed to a tremendous variety of environmental hazards that are potentially harmful to their health and well-being, perhaps more than any other occupation.
Deeb-Sossa recounts her conversation with Grupo de Mujeres, "I said, 'I'll bring medical students here and you can tell them what you want because I don't like to speak for you. I think you should speak for what you want.'"
In 2011, Deeb-Sossa, a trained sociologist, worked with UC Davis medical and undergraduate students to develop the Knights Landing Community Engagement Project. The project used a community-centered approach to advocate for the medically underserved within Knights Landing.
The team partnered with UC Davis School of Medicine's Rural-PRIME, a program designed to produce physician leaders who are trained in and committed to helping California's underserved communities. Their goal was to bring better health and wellness care to Knights Landing.
Soon, Empower Yolo and the California Rural Legal Assistance Foundation got involved. They worked with Clinica Tepati, the long-standing UC Davis student-run clinic, to open its first satellite clinic in Knights Landing. In January 2012, Knights Landing One Health Center opened its doors.
"It is the first (UC Davis) clinic that has a rural focus and is community engaged," Deeb-Sossa said. "We are constantly talking with the community about what their needs are. We are always trying to improve the clinic based on what they say and the social determinates of health."
Caring for Patients with Paws
Soon after the health clinic opened, services were expanded to include veterinary care in line with UC Davis' One Health approach—to care for people, animals and the environment. The One Health clinic opened in 2014 making it the first veterinary clinic in Knights Landing.

"We really love our clients," said Amber Robert, a former director of the student-run Knights Landing Clinic. "They love their animals, and they're so thankful."
The vet clinic mostly treats ear infections, respiratory diseases and skin issues; but the team of about 45 — including supervising veterinarians from UC Davis and undergraduate student volunteers — provides a range of services including physical exams, vaccinations and preventative treatments.
"I'm very thankful to the doctors and veterinarians for bringing the possibility to us who don't have economic resources to have those services," said Knights Landing resident Patricia Estrada.
Planting seeds for a healthy future
Shovels plunge into a mountain of loose soil. Rich earth is lifted and poured into the 12 garden beds scattered throughout a side lot of the Knights Landing Community United Methodist Church. The heat of the 2019 Indian summer warms the backs of UC Davis students, AmeriCorps volunteers and community members as they toil bringing the new Knights Landing Community Garden to life.
The Knights Landing Community Garden, which had its grand opening in November 2019, has been years in the making.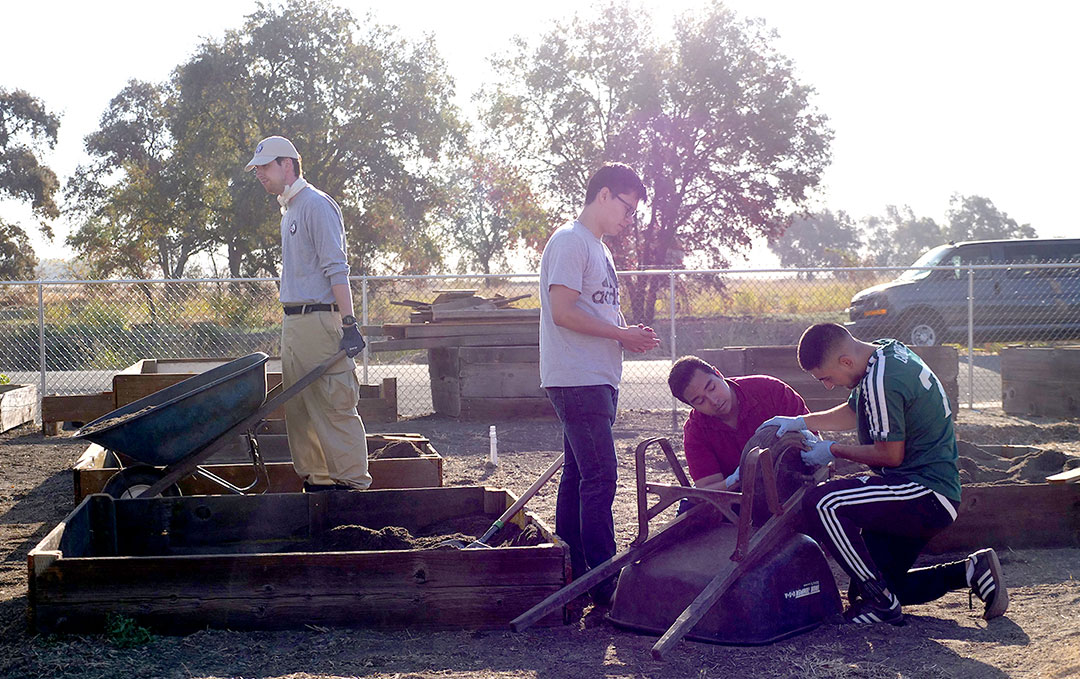 In 2013, a group of Knight's Landing youth called Pueblo Unido came up with the idea of a community garden, but lack of funding prevented the project from getting off the ground. In 2017, a group of UC Davis student volunteers working at the Knights Landing One Health Clinic noticed the lack of fresh fruits and vegetables in the community. They saw the impact this was having on the overall health of many people who visited the clinic — especially for those living with chronic diseases such as diabetes, obesity and hypertension.
A community garden seemed like a perfect, sustainable solution to help improve the health and wellness of the community. But, before they got started, the students convened a focus group of Knights Landing residents to determine if a community garden was something they still wanted. The students were pleased to discover 90 percent of the 100-plus people who were interviewed said a community garden was a top priority for Knights Landing.
Inspired by this, a cohort of UC Davis graduate and undergraduate students — including Jacklyn "Skye" Kelty, Alfonso Aranda, Ana Maria Guererro and Jonathan Ho — got to work. Their backgrounds were in a wide range of disciplines, including biology, toxicology and pharmacology, health, geography, environmental sciences, landscape architecture, community planning and development, and more.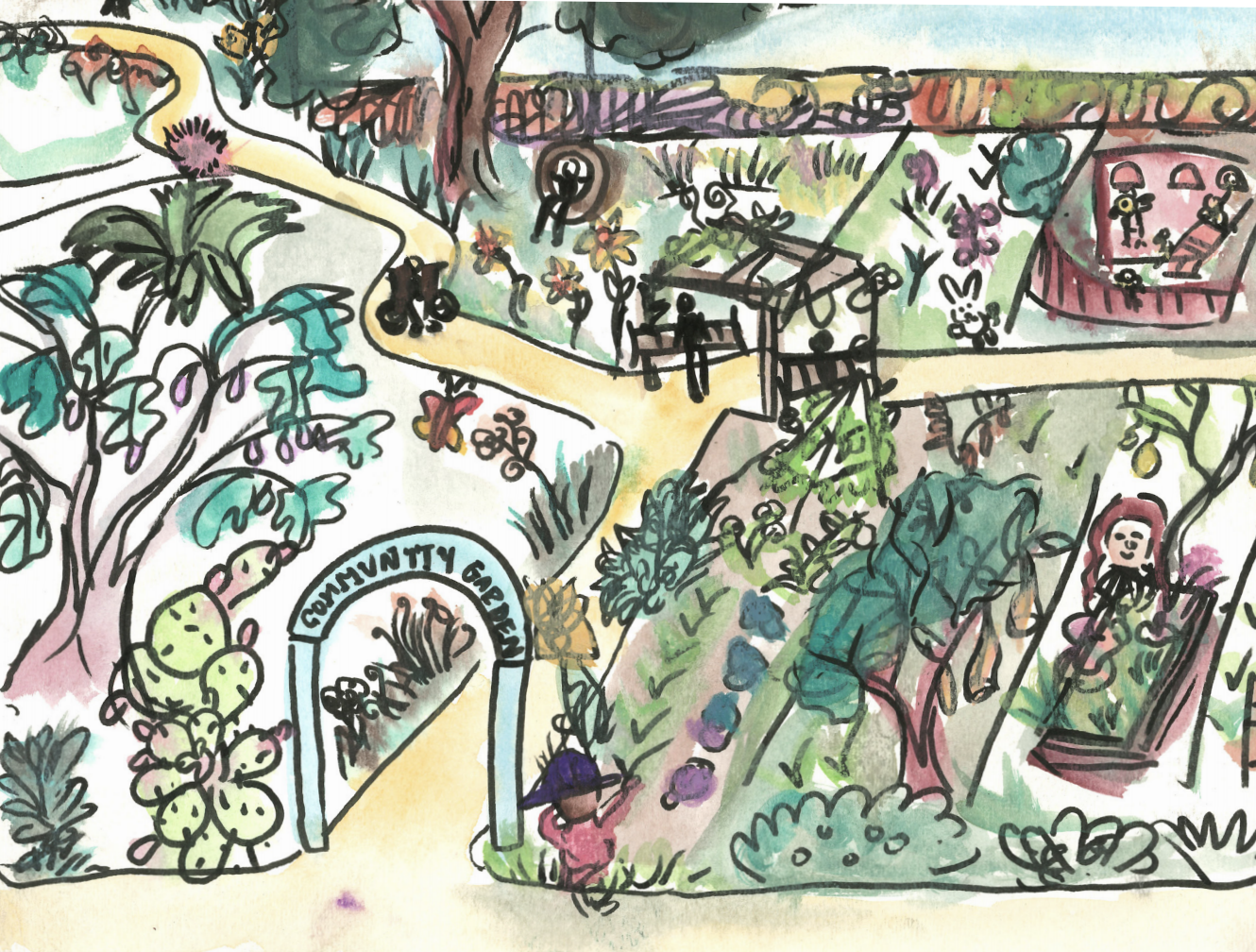 Knight's Landing Community Engagement Process by Ana Maria Guerrero
This project illustrates the process and dialogues that launched a community driven initiative into a tangible community garden space.
To get the garden going, they first had to pursue growing a different kind of green—money. They launched a crowdfunding campaign, applied for grants and scholarships, and even hosted community fundraisers in Knights Landing to support the project. To date, the group has raised over $50,000, including a recent $20,000 grant from the Yolo Health and Human Services Agency. Additionally, the Yolo County water district is providing free water and the Knights Landing Methodist Church provided the land for the garden. Altogether, more than 200 people have been involved with the project. All along the way, members of the Knights Landing community have been at the center.
"With this project, we've had community members as part of a team so they are constantly helping us check ourselves and understand that we do not come from this community and they know their needs better than anyone else," Maria said. "Our goal is to be chameleons, of sorts—to really listen to the community and be attuned to what's needed. Our role is to facilitate this project, but really have the community lead it."
The 65-by-130 feet in size garden has 12 irrigated beds. The group hopes to begin planting in the spring. The long-term goal is to have community members maintain and sustain the project.
"This project would not have been possible without the community," Ho said, "Without everyone's support we would not be where we are today. This is a project is that really needed the help and input from everyone to be successful."
Back in Davis
Back in Davis, Deeb-Sossa drives by the downtown Davis Farmers Market underway. Young adults are playing badminton on verdant grass. Children are running on the playground while shoppers inspect and purchase fruits, vegetables and other local goods. Deeb-Sossa turns her car toward Russell Field and stops outside Hart Hall, the home of Chicano/a Studies.
Trips to Knights Landing, like the one taken this Saturday afternoon, take hours of Deeb-Sossa's time. They are something she's done several times a month for over a decade now. But, the consistency of her showing up has made all the difference.
"In the past, faculty would go to Knights Landing or send students to do school projects and they would go, but then quickly leave. It left the community feeling like that kind of work was intrusive and they never saw the results or the benefits from that partnership," Deeb-Sossa said. "So when I started working there, I had to gain their trust. I had to show them through my deeds, more than my words, that I was there to do the work and show up consistently. I was invited, so I never left."
Deeb-Sossa continued, "Yes, public scholarship takes a huge amount of time, but the rewards are immense. I know that my research has a social justice purpose to it and I think that is very valuable—not just for me, but for the students and the community as well. And it is the mission of UC Davis as a land-grant institution."
While a lot of progress has been made in the past few years because of the partnership between UC Davis and the Knights Landing community, there is still more work to be done—especially in regards to housing, education and youth programs in the community.
To encourage others to join her, Deeb-Sossa says, "I hope everyone involved understands the possibilities there are in doing collaborative community-engaged work. The challenges, the strengths, and enormous possibilities of doing that type of work. That's my goal—that you fall in love with that kind of research. Anything is possible, if we do it together. These projects are possible because we all came together.
---
About UC Davis Public Scholarship and Engagement
Public Scholarship and Engagement (PSE) is fostering a culture of engagement at UC Davis that increases the university's impact through mutually-beneficial relationships that have local, regional, statewide, and global reach. 
We envision UC Davis research, teaching and learning that serves society and makes a positive difference in the world.
Primary Category
Tags