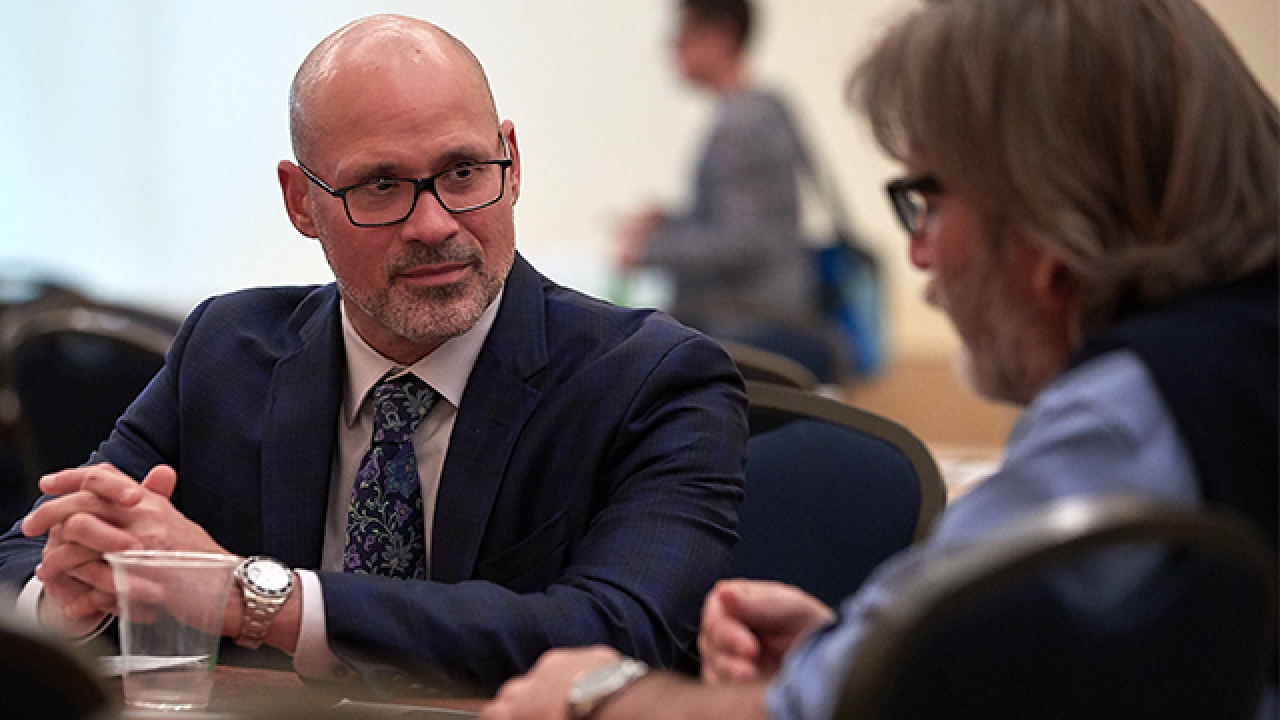 A Conversation with Public Scholarship and Engagement Leadership 
Vice Provost Michael Rios and Associate Vice Provost Tessa Hill met in person for the first time in February 2019. They happened to be seated next to each other at an event billed as dinner and a conversation with some of California's pioneers in the food and wine industry. 
The brainchild of Richard Grosberg, director of the Coastal and Marine Sciences Institute, the event exemplified the kind of work coming out of marine science faculty he wanted to showcase – work that's engaged with communities and farmers and societally relevant. As guests dined family style, they listened to a panel of experts discussing how a changing climate and environment was impacting the production of sustainable food in California.  
The experts were not UC Davis faculty and researchers, but rather their industry partners – Terry Sawyer, co-founder of Hog Island Oyster Co., Randall Graham, founder of Bonny Doon Winery, Sue Conley, co-founder of Cowgirl Creamery, and Patrick Mulvaney, chef and wwner of Mulvaney's B&L. This format put the light on community partners as they talked about how their connections to the university were important.
It was a prescient representation of the types of mutually beneficial relationships Public Scholarship and Engagement would be working to cultivate further – and an auspicious moment for Hill. 
"Dinner in Sacramento stands out for me because I was fortunate in that I was seated next to Michael. I think it might have been the first time we met in person." Hill recalls. "It was fairly early in the development of Public Scholarship and Engagement and so we talked quite a lot about what Michael was doing and what was rolling out of this initiative, and I left with a very strong impression that this is exactly what our campus should be doing and that it was going to set us apart from many other campuses."
"The thought I left with was, 'I hope I have an opportunity at some point to help because I want to be a part of that change that is going to happen on our campus.'" 
That hope eventually came to fruition. Hill joined Public Scholarship and Engagement as Associate Vice Provost for Academic Programs in April 2020. Her charge – promoting, facilitating, and providing leadership for UC Davis faculty to pursue and expand publicly engaged research, teaching and learning, programs and initiatives. 
She's beginning this undertaking by addressing the recommendations put forth by the Provost Work Group – a group of faculty representing all four colleges and six professional schools convened by former Provost and Executive Vice Chancellor Ralph Hexter to explore ways to achieve greater recognition of public scholarship at UC Davis.
Michael and Tessa sat down to talk about the Provost's Work Group recommendations and how she plans to approach her first year as Associate Vice Provost. 
---
What was the purpose of the Provost's Work Group? What makes their recommendation report important to this office, and why now?

Rios:

"

This is really about beginning in earnest something we heard loud and clear from faculty even before the office was formally established

– 

faculty recognition. Whether it was in our surveys, interviews, or workshops back as far as 2018, many feel that public scholarship and the recognition of it, specifically, is uneven at best. Many faculty feel that despite being a public university, there are few incentives for doing public engaged research and/or teaching especially with respect to the merit and promotion process. 





The individuals participating in the Provost's Work Group were genuine, they brought different perspectives, they respected those different, diverse perspectives, but toward the end, everyone was moving in the same direction, with the same clarity and intent. The recommendations that made it in the report are a crystallization of those dialogues."

Public Scholarship and Engagement is a relatively new and relatively small office. What made you decide to prioritize the hiring of an Associate Vice Provost as you were building the team?

Rios: "This work around faculty recognition requires an individual that is a respected faculty member, has deep experience, lived these challenges, and accomplished works that show the important value of publicly engaged research and teaching. I thought it was really important in order to best serve the faculty that we needed a faculty member who has a track record of demonstrated success. In the AVP role Tessa was the right person, and I knew she would be a strong candidate when we first met."

Hill:

"

There are faculty around the country who feel these same things

– 

that there's not enough recognition of their publicly engaged work

–

that our campus was actually going to do something about that felt remarkable to me."

You joined the team after the Provost's Work Group had submitted their recommendations. Were there any challenges in taking that report to begin formulating your own work plan having not been previously involved? Any advantages?

Hill: "I haven't experienced it as a challenge. I really appreciate all the work faculty colleagues across campus did to generate dialogue and the report. I think the recommendations the group came up with really resonate with me and would resonate with many of my faculty colleagues. They represent recommendations that answer a lot of questions and concerns that faculty have had for a long time about their engaged work. 

I really like that the report highlights the collaborative nature of this work: it points out who will need to work together to solve these problems which I think is an important and strategic approach. The report also considers what the barriers will be so it doesn't feel unrealistic to me, it feels very grounded in reality."

Based on that report, what is your immediate priority as you develop a plan for faculty engagement? Other than what's identified in that report, do you foresee any major barriers?

Hill: "I'm two months into this job and I'm still doing a lot of listening, around both the immediate priorities but also how we strategically make the most progress possible this year. When I look at the Provost's Workgroup Report, I see three broad categories. One is about capacity building: training and supporting faculty, whether that's with financial resources or a broader community, and having a better mentoring network in place.

There is a second realm of awareness and recognition so that more people know about the amazing work that UC Davis faculty are doing. There is a third critical piece that's really about our inner workings as an institution, and how we pull public scholarship even more deeply into our identity. I say this because as a land grant university with an amazing extension history, it's not that we're starting from nothing. We're actually starting from a lot, and trying to build on that foundation.

Michael talks about hearing faculty voices speak about how important this work is and needing more support from the university. It is a privilege to be in a position where we can listen to those challenges and start to do something about them."

So what happens next?

Rios: "I am grateful to the Work Group which recommended very clear strategies to pursue, without one necessarily being more important than another and that should be pursued simultaneously.  In many ways the identified strategies were themes we heard during our implementation planning process that led to the creation of our office – education and awareness; merit, promotion, and tenure; and faculty development opportunities are some of these overlapping themes that were expressed in the past.  

So we have a lot of work to do but we have a clear roadmap now about what needs to happen. I'm excited because we've got this blueprint for faculty recognition and it's a validation of faculty voices across the university. With Tessa joining the team as AVP and it being a significant part of her portfolio, we can actually get to work and see how we can advance these strategies and respond to the concerns and issues, hopes and aspirations of all the faculty." 
Category
Tags